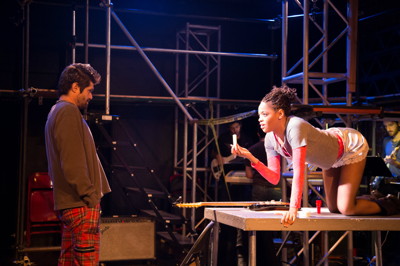 Dear readers! This week's theater review for the LA Weekly is of the rock opera Rent, now playing at Hudson Theatres in Hollywood.
Click here to go to the LA Weekly's theater page and scroll down to read it.
~ OR ~
You can just read it here!!
Happy reading!
Rent
Because of its repetitive musicality, rock opera Rent lives or dies on the vocal strength of its cast. This production has mostly excellent, robust and irrepressible singing that is only occasionally obliterated by the mediocre live band. The plot of Jonathan Larson's legendary Broadway smash clings to its source material (Henri Murger's novel and Puccini's opera), gaining gravitas with its contemporary updating to Manhattan in the mid-90s. Tuberculosis becomes AIDS, the oppressed mobilize and artists sell out. Highlights include the hilarious "Tango: Maureen" (Reagan Osborne and Kate Bowman) and "Light My Candle" (Juan Lozano and the sultry Lauren Joy Gross as a sexed-up Mimi).
Jonathon Grant steals the show with his dynamite performance as cheeky drag queen Angel, especially in his athletic first solo "Today 4 You." Director Kristen Boulé never finds the balance between the show's rock and roll power and its quiet, reflective ballads. Commencing Act II in full house lights undermines the dreamy, multi-part harmonies of "Seasons of Love."
Rent
Hudson Theatres
6539 Santa Monica Blvd.,
Hollywood
Performances:
Fridays, Saturdays, 8 p.m.;
Sundays, 7 p.m.
Continues through June 30, 2013.