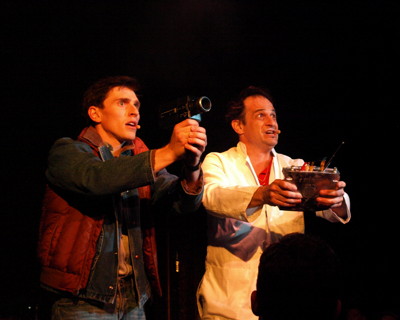 For The Record: Zemeckis just opened at Rockwell: Table & Stage—that cool, fun and intimate supper club in Los Feliz where you can enjoy superb cuisine and delicious cocktails as well as be entertained by a sensational live performance that changes every few months.   (Cuisine review here.)
Ticketing information below.
A handful of celebrities were in the house on opening night last weekend to enjoy the lively show. Actor Demi Moore and her daughter Rumer Willis, also Joanna Cassidy (from ABC's "Body of Proof") and Jayson Blair (from NBC's "The New Normal") were clearly all having a great time. For The Record: Zemeckis is dedicated to celebrating the dialogue and songs heard in the popular movies directed by Robert Zemeckis—movies such as Forrest Gump, Death Becomes Her, Cast Away, Who Framed Roger Rabbit, Back to the Future and more—by combining songs with snippets of scenes from the various movies.
A cast of seven talented performers (plus the live musicians) give their all, belting out songs such as Turn, Turn, Turn, Light My Fire, Blowin' In The Wind, Why Don't You Do Right, Power Of Love, Johnny B. Goode, Go Your Own Way and so on.
The show started with a bang, mashing up California Dreamin' with a guitar heavy version of All Along the Watchtower. By the time they'd touched on Hound Dog and (I Don't Know Why) But I Do, I realized it was more about presenting fragments of songs than full versions.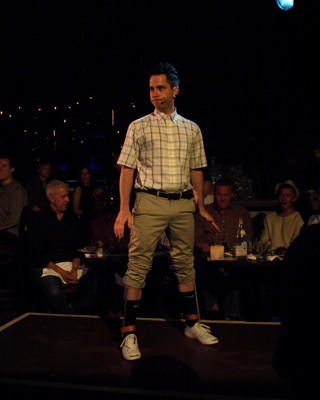 Providing the show's through line and portraying Forrest Gump (played on screen by Tom Hanks), Derek Manson (pictured right) had the biggest role of the night, also briefly switching to depict Hanks in a brief scene from Cast Away. Lindsey Gort was also great as Forrest's love interest, the wayward hippie Jenny (played on screen by Robin Wright). Jason Paige as Lt. Dan gave a heartfelt rendition of Everybody's Talkin'. Impressively, the entire cast managed to sing and jog on the spot for Running on Empty.
Thanks to a vein of tongue-in-cheek humor that runs throughout, For The Record: Zemeckis is a fun-filled evening of song, dance and live music—do not miss this tremendously entertaining show!
Photo credit: Lily Lim.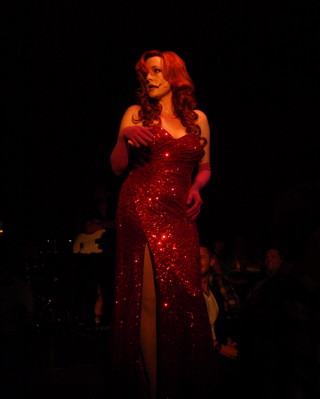 For The Record: Zemeckis
Rockwell: Table & Stage
1714 N. Vermont
Los Angeles, CA 90027
*** Turn down Kingswell Ave, just north of Prospect Ave, and then turn right down the alley to find the valet and entrance***
Guests are encouraged to arrive early and enjoy Rockwell: Table & Stage cuisine and cocktails. There is a two-item minimum.
Performances:
Thursday—Sunday at 8:30PM
Runs through Saturday, July 20, 2013.
Tickets:
$40.00 Reserved / $20.00 General Partial View, with an additional processing fee of $2.20—3.40.
Box Office:
Call (323) 661-6163 (ext 20) or visit their official site.
LATE SEATING POLICY:
All tickets and reservations are released at scheduled showtime.
About the company.
The Band:
Musical Director Christopher Lloyd Bratten expertly thunders away at the piano throughout the show, capably guiding fellow band members Joel Gottschalk on bass, Kiel Feher on drums and Nick Perez on guitar.
The Cast:
The talented cast of For The Record: Zemeckis includes Payson Lewis, Derek Manson, Jason Paige, Lindsey Gort, Laura Dickinson, Rogelio Douglas, Jr. and Nicole Parker.
The Talent:
For For The Record: Zemeckis is directed by Anderson Davis and produced by Shane Scheel, Christopher Lloyd Bratten and Anderson Davis. Choreography by Angela Pupello and Musical Direction by Christopher Lloyd Bratten.