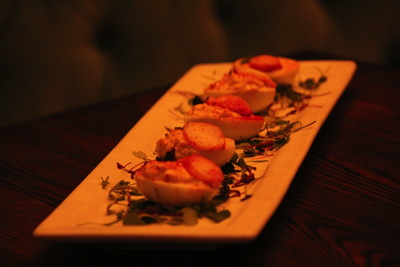 Not only is the hottest stage show in town now in its last days – For The Record: Scorsese – but the food they serve at this cozy little supper club is well worth the visit.
Tucked away in Los Feliz is Rockwell: Table & Stage, intimate supper and performance venue that has a great new American menu and killer cocktails that complement their unique and sensational stage show.
Closing this weekend is For The Record: Scorsese, a feisty, fast-paced and foul-mouthed production featuring songs and short scenes from an assortment of movies directed by Martin Scorsese. Broadway stars and songbirds kick it on stage and keep their performance skills primed in this slick, stylish and lively show.
Coming up in December is their brand new show that celebrates the movies of John Hughes, "For The Record: John Hughes (Holiday Road)" which will showcase signature songs and moments from John Hughes' classics such as The Breakfast Club, Sixteen Candles, Pretty In Pink, Ferris Bueller's Day Off, Weird Science and Hughes' holiday favorites Home Alone, Christmas Vacation and Planes, Trains & Automobiles.
Performances run Thursday, December 6th  through Sunday, December 30, 2012.
About the restaurant.
Firstly, the room is chic and dimly lit – in a good way. It's a great place for a romantic date or a night out with friends. Dotted around the large room are round tables – some raised cocktail ones – and booths. The room has a bright and fun energy without being too cacophonous.
The show actually kicks off around 8.30pm. There are several raised platforms as stage areas throughout the dining room, including a catwalk in front of the live band. The performers scoot all over the venue, sometimes even standing on the bar counter, belting out the songs with high energy.
The servers are all clad in black; the waiters wear white bowties and the bussers do not, which creates a nice distinction for who you should ask for another cocktail.
My guy loved his cocktail – the Van Brunt – which was Aviator gin, cointreau, cucumber and maybe dill? "It's just like getting messed up on fresh cucumber!" he grinned.
Starters include the usual suspects such as Tortilla Chips, Guacamole, Pico De Gallo, but the chef mixes it up with seasonal fare such as Silver Dollar Pumpkin Pancakes.
The menu at Rockwell: Table & Stage was recently revamped to present a range of classic American dishes ranging from Crab Cakes to Lobster Devilled Eggs (starters  – both were delicious!) and mains such as Prime Rib Pork chop and Braised Beef Short Ribs – again, the dishes we sampled and loved. The Pork chop was substantial and the Braised Beef Short Ribs were meltingly fabulous. All appetizer portions are sufficiently substantial and hearty without being overwhelming.
Quick backtrack on our starters. According to my companion, the Crab Cakes were "fantastic," and he's not easily pleased.  They came in a rich, ruby red tomato sauce that was sprinkled with cubes of avocado. You may have to ask for a spoon or some bread to mop up the delicious sauce… A neat row of Lobster Devilled Eggs each came cunningly nested on a clump of light alfalfa sprouts, which I haven't seen since the 80s! Best of all, the lobster flavor was in the forefront.
All-American side dishes include skillet-served (read: piping hot) mac 'n' cheese, capt 'n' crunch onion rings and silky pureed sweet potato.
Go here for a peek at their menu.
Photos by Joanna Strapp.
Click here to read my review of For The Record: Scorsese.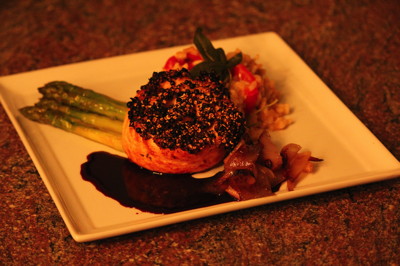 1714 N. Vermont
Los Angeles, CA 90027
*** Turn down Kingswell Ave, just north of Prospect Ave, and then turn right down the alley to find the valet and entrance***
Guests are encouraged to arrive early and enjoy Rockwell: Table & Stage cuisine and cocktails. There is a two-item minimum.
LATE SEATING POLICY:
All tickets and reservations are released at scheduled showtime.
TICKETS:
Range from $20—40.00, with an additional processing fee of $2.20—3.40.
For additional information, please call (323) 661-6163 ext. 20.
*** PAY-WHAT-YOU-CAN THURSDAYS for FOR THE RECORD: SCORSESE ***
Rockwell: Table & Stage is excited to offer a "pay-what-you-can" night this Thursday for For the Record: Scorsese run.
If you're interested in reserving a "pay-what-you-can" ticket, email [email protected] There is a $10 suggested minimum, and you must receive a confirmation to be able to take advantage of the "pay-what-you-can" offer. Subject to availability. *2 item minimum purchase*
"For The Record: John Hughes (Holiday Road)"  will perform Thursday, December 6 through Sunday, December 30, 2012.
For Reservations
(Dining Only)
Call (323) 669-1550 or Click Here
For Show Tickets
(Dining Included)
Email: [email protected] or Click Here