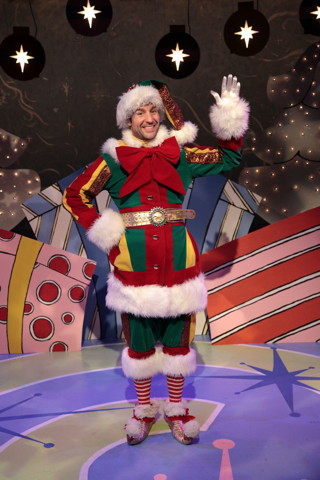 Gentle readers! Last week my theater review for the LA Weekly is of the comedy The Santaland Diaries, a comedy based on the memoirs of David Sedaris.
Click here to go to the LA Weekly's theater page and scroll down to read it.
~ OR ~
You can just read it here!!
Happy reading!
The Santaland Diaries.
The silly season brings with it enough Christmas and holiday-themed fare to set your teeth on edge from sugar overload. Fortunately for the cynics among us, the Blank Theatre has brought back their not-safe-for-children one-man hit show for its fourth year running. Paolo Andino climbs back into the elf suit for a second time, and it's still a perfect fit.
Cute, sly and bouncing with verve, Andino modulates a jovial tone to the comedic monologue that is never too sarcastic or snarky. Based on comedian David Sedaris' sardonic radio segments on NPR's Morning Edition, the fun-filled one-act show charts his increasingly bizarre experience as a costumed elf at Macy's department store 'Santaland.'
Our hero, with the adopted name of Crumpet, is a wanna-be actor who dreams of joining the 'One Life To Live' TV soap family. Instead he can only land a paying gig as a put-upon elven assistant clad in a ludicrous outfit that includes candy-striped stockings and oversized pom-pom pointy shoes.
Sedaris' tale hilariously takes us through the whole experience, from the laborious interview process and training to the hell that is frazzled parents and excited kids during the most intense shopping period of the year. Andino's dynamic performance is engaging as he glides from raconteur to warbler in the show's handful of brief musical interludes. His gift for impressions is what makes this show sing.
The Santaland Diaries
Blank Theatre Company at the Stella Adler Theatre
6773 Hollywood Blvd.,
Hlywd.;
Wed.-Sat., 8 p.m.; Sun., 2 p.m.; through Dec. 16. (323) 465-4446.