::STOP PRESS::

For The Record: Scorsese begins encore presentations this Friday, January 11 and runs until Sunday, January 27, 2013. Weekly performances are Thursday – Sunday at 8PM.

Ticketing information below.
Rockwell: Table & Stage is a cool and intimate supper club in Los Feliz that offers fine cuisine and tasty cocktails along with a unique and sensational stage show that changes every few months.
Now playing is For The Record: Scorsese, a fiery, feisty, foul-mouthed and super-fun production featuring songs and short scenes from an assortment of movies directed by Martin Scorsese. The slick and fast-paced show is performed by Broadway stars who relish the opportunity to kick it on stage and keep their performance skills primed. For The Record: Scorsese is the sixth production of this kind they have staged over the past few years; previous shows include those devoted to the films of Quentin Tarantino, Paul Thomas Anderson and Baz Luhrmann.
*** For the Record: Tarantino is returning for a limited engagement late November and early December. Check website for details.)
Although they've been operating for a couple of years, the restaurant was recently renovated, removing a wall and expanding the narrow bar area where they formerly staged the performances. Stashed away behind Vermont Kitchen and Bar, you enter from the back alley and make your way through a series of dining rooms before you get to Rockwell. It has a cozy, secret venue feel to it.
The room is shabby chic décor with round tables – some raised – and booths. The room is dimly lit but has a bright and fun energy without being too loud.
Their menu was recently revamped to present a range of dishes ranging from Crab cakes to Lobster devilled eggs (starters) and mains such as Prime Rib Pork chop and Braised Beef Short Ribs. (Cuisine review here.)
The show actually kicks off around 8.30pm, but you will want to get there a bit earlier to hang out, drink and maybe order some food. There are several raised platforms as stage areas throughout the dining room, including a catwalk in front of the live band. The performers scoot all over the venue, sometimes even standing on the bar counter, belting out the songs with high energy.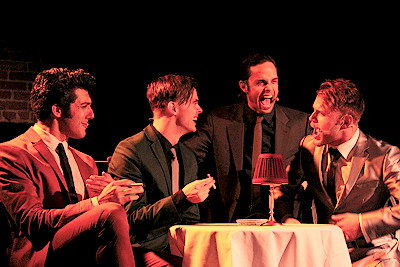 For The Record: Scorsese immediately immerses you in a scene from Goodfellas; you have gangsters and tough guys mouthing off and whacking people – it's fantastic!  At one point the hoods even pull their guns on the musicians, after Pesci's character Tommy is murdered.
One performer in the eight-strong cast, Jason Paige, gives a great vocal impersonation of Joe Pesci (and even looks a bit like him as well). So the classic "Ya think I'm funny? Funny how?" scene segues into the Cream track "Sunshine of Your Love", complete with a rendition of Eric Clapton's familiar opening grungy electric guitar riff. Yeah! Paige later blows us all away with his killer version of Clapton's "Layla." Then there's a smooth segue to Stevie Wonder's groovy, Latin Soul-infused "Don't You Worry 'Bout a Thing."
Lindsey Gort gives a fantastic rendition of "Baby I Love You" originally by The Ronettes and also used in Goodfellas.
Von Smith absolutely brings the house down with his powerful, rangy rendition of The Animals' haunting hit "House of the Rising Sun" (used in Casino). He also does a pretty good Leo DiCaprio impersonation.
There are a lot of scenes from Goodfellas in the show's first half, as well as scenes from Mean Streets, The Departed, Raging Bull and Taxi Driver, to name a few.
Act II has scenes mostly from The Aviator and Casino, in addition to a few other movies.
For The Record: Scorsese is a beautifully orchestrated show with the emphasis on high energy, a cracking pace and fluidity. Director Anderson Davis also performs, most notably as Daniel Day Lewis' character from Gangs of New York. (Pictured below.)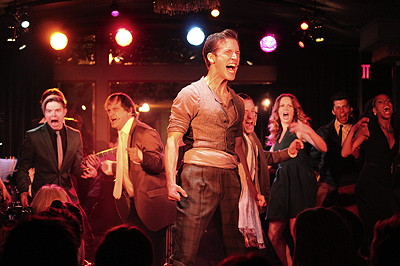 There are excellent production values in place, both musically and vocally. The right amount of reverb on the vocals lends a fullness to the singing. The entire cast achieves complex harmonies without foldback, which is very impressive.
If you want to experience a seasoned Broadway cast accustomed to giving their all, within the intimacy of this lovely supper club, then For The Record: Scorsese is a show that is not to be missed.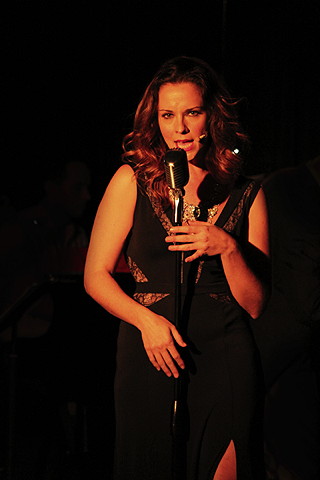 1714 N. Vermont
Los Angeles, CA 90027
*** Turn down Kingswell Ave, just north of Prospect Ave, and then turn right down the alley to find the valet and entrance***
Guests are encouraged to arrive early and enjoy Rockwell: Table & Stage cuisine and cocktails. There is a two-item minimum.
LATE SEATING POLICY:
All tickets and reservations are released at scheduled showtime.
TICKETS:
Range from $20—40.00, with an additional processing fee of $2.20—3.40.
For additional information, please call (323) 661-6163 ext. 20.
*** PAY-WHAT-YOU-CAN THURSDAYS for FOR THE RECORD: SCORSESE ***
Rockwell: Table & Stage is excited to offer a "pay-what-you-can" night every Thursday for the rest of the For the Record: Scorsese run.
If you're interested in reserving a "pay-what-you-can" ticket, email [email protected] There is a $10 suggested minimum, and you must receive a confirmation to be able to take advantage of the "pay-what-you-can" offer. Subject to availability. 2 item minimum purchase.