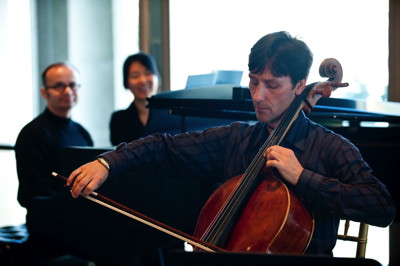 The fourth concert of Le Salon de Musiques' 3rd season on January 13 2013, which is sponsored by the German Consulate of Los Angeles, will feature J.S. Bach's Gamba Sonata n.2, Robert Schumann's Fantasy op 73 Cello & Piano and the US Premiere of Philipp Scharwenka's Piano Quintet op 118.
With five United States premieres and a retinue of newly rediscovered composers, "Le Salon de Musiques", an ensemble of some of Los Angeles most renowned chamber music performers, returns for its third season and reexamines the Romantic and Neo-Romantic movements and their lesser known gems. Performances take place on Sundays, once a month, through May 2013.
Le Salon, a compendium of Los Angeles' most renowned chamber music performers, will be giving his Third Season's Series of eight concerts at the famed Dorothy Chandler Pavilion every third Sunday beginning October 14th 2012 through May 19th, 2013. The hours will be from 4:00pm until 6:00pm.

The performances will take place on the 5th floor in an intimate stage free environment, eliminating the boundaries between the artists and auditor.
The concerts will be followed by interactive discussions with the audience sharing ideas, concepts and impressions about the music performed, while enjoying French Champagne and a gourmet buffet provided by Patina.

Created by French Pianist/Melodist Francois Chouchan, this original concept of making chamber music even more accessible to music lovers, giving them the opportunity to be embraced by the music, and to become totally immersed in the experience. There will be limited seating for this exclusive opportunity.
About the composers:
The late Philipp Scharwenka was the brother of Xaver Scharwenka, both of whom were German composers and music teachers. Xaver founded the Scharwenka-Conservatory in Berlin, which Philipp eventually took control of and in 1893 merged with the Piano School of Karl Klindworth to form the Klindworth-Scharwenka Conservatory.  Otto Klemperer was one of his pupils and Philipp was one of the first to realize the great talent of Gustav Mahler.
Philipp Scharwenka was best known for his chamber works, which are dreamlike with moody inflections.
The Le Salon de Musiques concert will be performed by Guillaume Sutre on violin, Helen S. Callus on viola, Antonio Lysy on cello, Steven Vanhauwaert on piano and Searmi Park on violin.
About the musicians:
Callus is hailed as "one of the world's greatest violists" (American Record Guide), and "one of the foremost violists of her generation" (Fanfare magazine.) She currently holds the appointment of Professor of Viola at the University of California, Santa Barbara.
Lysy has performed as soloist worldwide, in major concert halls, appearing with orchestras such as the Royal Philharmonic Orchestra of London, Camerata Academica of Salzburg, Zurich Tonhalle, Israel Sinfonietta, and the Montreal Symphony Orchestra. He and currently teaches at UCLA.
Searmi, who joined the Los Angeles Chamber Orchestra in 2001, also regularly plays with the Los Angeles Philharmonic, LA Opera Orchestra and Pacific Symphony.
Sutre was named Chevalier of the Order of Arts and the Letters by the French government and is currently professor of violin at UCLA.
Vanhauwaert has peformed in major venues with orchestras such as the Pacific Symphony, the Flemish Symphony, the Concord Jazz Ensemble, the Eastern Sierra Chamber Orchestra and Prima la Musica.
The music will be introduced by Julius Reeder Carlson.
As usual, informal conversations with the musicians will follow the concert accompanied by a lovely buffet by Patina and French Champagne.
Photo Credit: Ying Huang Photography.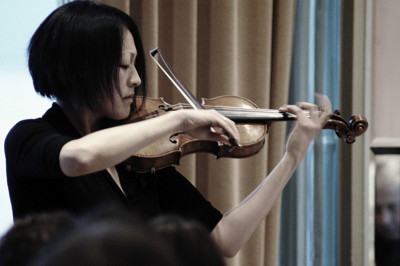 Le Salon de Musiques
GUILLAUME SUTRE Violin,
SEARMI PARK Violin,
HELEN S.CALLUS Viola,
ANTONIO LYSY Cello,
STEVEN VANHAUWAERT Piano
Performing:
J.S BACH: Gamba Sonata n.2
SCHUMANN: Fantasy op 73 Cello & Piano
SCHARWENKA: Piano Quintet op 118 (USA Premiere)
When:
Sunday January 13, 2013 at 4:00 pm
Where:
Dorothy Chandler Pavilion – Fifth Floor
135 North Grand Avenue
Los Angeles, CA 90012
TICKETS:
Regular price: $65.00 (The Concert + La Conversation )
Students price: $45.00 (The Concert + La Conversation )
BOOKINGS:
You may pre-purchase tickets here.
For more information about Le Salon De Musiques, please call 1 (310) 498 0257