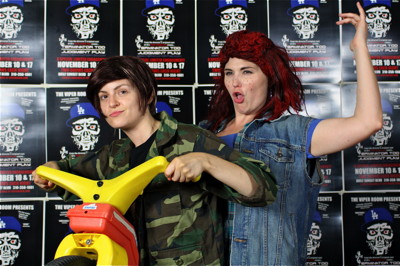 Hey readers! This week my theater review for the LA Weekly is of the comedy Terminator Too: Judgment Play, a silly, spoofy show now playing Sat nights at the Viper Room on Sunset.
We gave it a "GO!"
Click here to go to the LA Weekly's theater page and scroll down to read it.
~ OR ~
You can just read it here!!
Happy reading!
TERMINATOR TOO: JUDGMENT PLAY
Some of the folks involved with the long-running Point Break Live! have regrouped to present another live spoof of a popular movie, this time putting everyone's favorite action ham, Arnold Schwarzenegger, in their sights.
The interactive stage show recruits their leading man from the audience, getting willing showoffs to leap onstage, do some push-ups and deliver the iconic line "I'll be back" for an audience rating. The one with the most strangled Austrian accent gets the role for the night and is prompted throughout with dialogue on laminated flash cards presented by a saucy Latina maid (Melanie Minchino).
It's tempting to suspect the hero in the performance reviewed was a slightly coached plant; he was way too good. Supporting cast brings ample enthusiasm for the absurd and fast-paced nonsense, especially petite Joya Mia Italiano doing her best, squeaky-voiced Edward Furlong impersonation as the bratty teenager John Connor, and ripped, no-nonsense Christi Waldon as Sarah Connor.
Production values are deliberately (and hilariously) low-tech, including robo-costumes made from aluminum roasting trays and cars clearly constructed from cardboard. Plastic ponchos are provided to protect the audience from the barrage of water gunfire and blood splatters throughout.
Silly, messy and moderately funny, the show's two 45-minute acts fly by.
TERMINATOR TOO: JUDGMENT PLAY
8852 W. Sunset Blvd.,
West Hollywood
Sat., 7:30 & 10:30 p.m.
Through Dec. 8, 2012.
(310) 358-1881