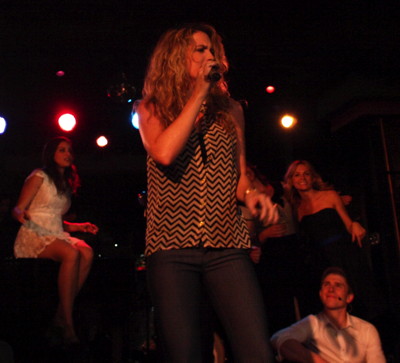 For The Record: The Marshalls is now playing at Rockwell: Table & Stage, a super-hip and intimate supper club in Los Feliz where you can enjoy exceptional cuisine and tasty cocktails and be entertained by a sensational live performance that changes every few months. (Cuisine review here.)
Ticketing information below.
Celebrating the songs featured in the popular movies directed by siblings Garry and Penny Marshall, For The Record: The Marshalls is a upbeat, funny and poignant – not to forget highly entertaining – evening of song, dance and live music.
Presenting moments from the marvelous movies of Garry and Penny, a core cast of seven bright-eyed and enthusiastic performers (plus the live musicians) are joined each night by a guest singer. On opening night the guest was Kacie Sheik, and what a powerhouse voice! Payson Lewis also wowed us with his impressive pipes, and the entire cast is superb.
In fact, with the burgeoning success of these shows over the past two-and-a-half years, Rockwell: Table & Stage has become a draw for guest artists such as Sutton Foster to use as a safe, low-pressure workshop kind of space to try out material. Foster performs a selection of her faves in concert on Wednesday, Feb 27.
Anyway, on opening night of For The Record: The Marshalls there was plenty of raucous excitement swirling around the audience, and that energy was more than matched by the scintillating performances throughout the evening.
While there is a central catwalk, the players actually run, sing and dance all over the room, even up at the sound-mixing desk and atop the bar!
Wearing patent leather thigh high stiletto boots and a tight, midriff-revealing white top, a bewigged Jackie Seiden strutted her stuff down the catwalk, portraying Julia Robert's character from Pretty Woman for three songs and scenes (even flashing her red panties – wow!) Steve Mazurek is fantastic as the Richard Gere character, especially for a solo of Roy Orbison's title track. Mazurek as Gere even mimes the performance a lovely quiet interlude of classical piano (played by MD Christopher Lloyd Bratten.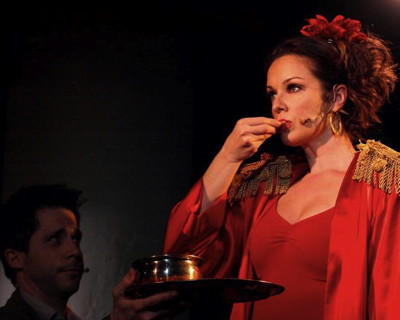 Next they seamlessly segue into a hilarious scene from Overboard  with Ginifer King (pictured) hilariously portraying Goldie Hawn's snotty socialite.
The band gave a fun salsa interpretation of the famous 'Heart and Soul/Chopsticks' scene from FAO Schwarz toy store that features in Big, (the central catwalk is marked with keys just like the floor piano).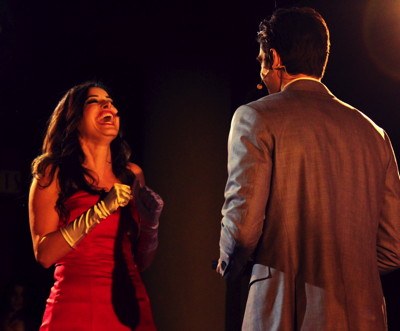 Various songs from movies such as Runaway Bride and The Preacher's Wife close out Act One, with a powerful rendition of Carole King's hit tune 'I Feel the Earth Move' from The Other Sister bringing the house down.
Other highlights include the beautifully matched voices for a duet of Cyndi Lauper's 'Girls Just Wanna Have Fun' from Riding in Cars with Boys and also the pure and emotive duet rendition of 'Dreamin.'
Act Two includes a medley of tunes from the various TV shows the Marshall siblings are famous for (Laverne and Shirley, Mork & Mindy, Happy Days etc) plus several scenes from A League of Their Own including the legendary 'There's no crying in baseball' scene – here Derek Manson does a fantastic impersonation of Tom Hanks. You gotta see this show just to experience one of the guys who's forced to don drag to portray one of the female baseball players! Of course you have to have some soppy songs from Beaches, but trust me – this cast and our trusty MD present a wonderful new arrangement to Wind Beneath My Wings.
There's a lot of comedy throughout – I even detected a few clever improv moments by the quick-thinking performers.
There's even a tap dancing routine in 'The Glory of Love,' jitterbugging in 'Choo Choo Ch'Boogie,' a Gospel medley, torch song solos, operatic flourishes, superb harmonies – this show has it all!
Do not miss this marvelously entertaining show!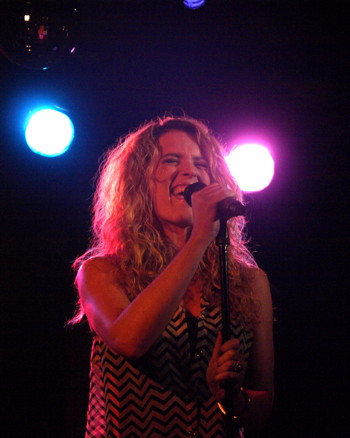 For The Record: The Marshalls
Rockwell: Table & Stage
1714 N. Vermont
Los Angeles, CA 90027
*** Turn down Kingswell Ave, just north of Prospect Ave, and then turn right down the alley to find the valet and entrance***
Guests are encouraged to arrive early and enjoy Rockwell: Table & Stage cuisine and cocktails. There is a two-item minimum.
Performances:
Thursday – Sunday at 8PM
Show runs through Saturday, April 6, 2013.
Tickets:
$40 Reserved / $20 General Partial View, with an additional processing fee of $2.20—3.40.
Box Office:
Call (323) 661-6163 (ext 20) or visit their official site.
LATE SEATING POLICY:
All tickets and reservations are released at scheduled showtime.
The Band:
Musical Director Christopher Lloyd Bratten expertly thunders away at the piano throughout the show, capably guiding fellow band members Joel Gottschalk on bass, super sexy and powerful Kiel Feher on drums and Bick Perez shredding away on guitar.
The Cast:
The talented cast of For The Record: The Marshalls includes Anderson Davis, Peter Porte, Milena Govich, Ginifer King, Jackie Seiden, Angela Pupello, Kristolyn Lloyd, Payson Lewis, Derek Manson, James Byous, Delisco James, Jason Paige, Steve Mazurek, Taylor Cathcart, Lindsey Gort, Charissa Hogeland, Anna Bowen, Tomasina Abate, Laura Dickinson and Sarah Pfeifer.
The Talent:
For The Record: The Marshalls is directed by Anderson Davis and produced by Shane Scheel. Choreography by Angela Pupello and Musical Direction by Christopher Lloyd Bratten.