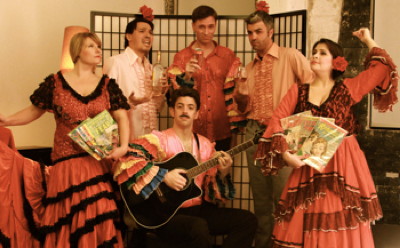 Comic Books, Music and Booze!
Beginning March 3rd, with a show about 'Love,' the zany league of theater geeks – Captured Aural Phantasy Theater – will be making an appearance at El Cid on the first Sunday of every month, presenting a wacky live show that blends comic books, pop culture and the absurd.
Each month's entertainment event will feature a different theme presented in Captured Aural Phantasy Theater's signature variety show format and will include CAPT's special mix of live music, artful projections, radio show-style performance and vintage variety entertainment.
CAPT is thrilled to join forces with the legendary Silver Lake venue El Cid.
El Cid offers a romantic blend of dining, history and entertainment that is unique, enchanting and beautiful – hidden in the heart of the artistic community of Silver Lake, just minutes away from Hollywood. It is a truly magical place and is known today as a treasured landmark of the area.
Revel in El Cid's 100 year-plus history while enjoying a brand new tapas menu and superb cocktails.
You'll probably want to arrive early to grab a good seat and enjoy the food, or get yourself situated near the curtain and just start drinking.  Why not?!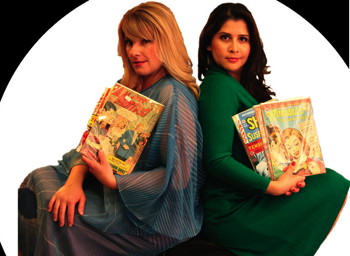 Captured Aural Phantasy Theater (CAPT)
Presents "Sex, Love and Comic Books Show" on March 3, 2013
Where:
4212 W. Sunset Blvd.
Los Angeles, CA  90029
When:           
The First Sunday of each month:
March 3, April 7, May 5, and June 2, 2013
7:30PM doors open and dinner seating begins
8:30PM Show starts
Tickets:            $10.00 at the door (cheap!)
or purchase online here or here
Show Themes:           
March 3: Sex, Love and Comic Books
April 7: Saturday Morning Cartoons Live Show
May 5: A Teenage Comic Book Quinceanera on Cinco de Mayo!
June 2: Los Angeles Noir
About the Cast:
Captured Aural Phantasy Theater is a group of super-talented, experienced performers, writers, visual artists, and filmmakers.
The cast includes:
Ben Dickow – Producer and director, who also lectures on the history of comics at Otis College
Laurel Robinson – Singer and Musical Director
Carlos Zelaya – Director and writier of the award-winning web series "Police Chicks"
Nicole Ortega – Producer and star of "Police Chicks"
Josh Hickman – Recording artist and member of the instrumental surf band "The Noble Gasses"
Michael Uribes – Veteran of the Los Angeles theater circuit and various TV appearances
Jim Meade – Song Writer and co-leader of the duo "Quinn's Uncles"
Peter Wylie – Stage Manager, Assistant Producer and our resident Master of Theatrical Performance
Andres Loera – Audio/Visual Artist
 ABOUT THE COMPANY:
Captured Aural Phantasy Theater combines the art, drama and comedy of a vintage radio program with the live entertainment of a variety show. In our signature show format, CAPT players interpret thematic comic books and other pop culture nuggets in the style of a retro radio program along with musical acts, projected art and comedic bits. This perfect blend of variety, radio, cabaret, and multimedia performance, Captured Aural Phantasy Theater aims to entertain all your senses.
Captured Aural Phantasy Theater is what would happen if Garrison Keilor, John Waters and Stan Lee all hooked up after a night of hard partying. Shows are built around performances of vintage pop culture gems, but our specialty is giving old comic books a modern voice.
Captured Aural Phantasy Theater has been performing around Los Angeles for years, developing a devoted and growing following. We've been featured at many renowned venues, including the Alexandria Hotel, i/O West, The Bootleg, the Velaslavasay Panorama and the Nerdist Showroom at Meltdown Comics.
Captured Aural Phantasy Theater is a group dedicated to producing high-quality live, filmed and recorded entertainment; bred in Chicago, but in LA to stay. We never fail to entertain! Here's a little of what "they" are saying:
The Word on the Street:

"Park your time machine on Sunset and join these retro revivalists for a unique variety show that's sure to impress funny book fans of every era."

-Geek Chic Daily

"Featured Event"

-LAist

"The gang at Captured Aural Phantasy has crafted something uniquely wonderful."

-LA Weekly

"I highly recommend this show. Go see them now! You will be so happy you found them and you will become a loyal fan and want to see all their shows!"

-Goldstar

LA Downtown News "Don't Miss" List

Featured in LA Weekly's "GO LA!"

RECOMMENDED by Eye Spy LA! & MTV APPROVED.
Follow them on Facebook here.
Twitter: @CAPTLA
This is a sponsored Post.

For more information on sponsored posts, please get in touch with me via the Contact page.