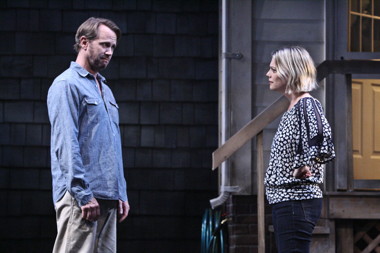 Playwright Gina Gionfriddo's new (to LA) comedy examines the evolution of feminist ideology over the past decades, both theoretical and practical, but above all presents a fantasy scenario throughout.
Three friends from graduate school days have forged their own paths. Gwen (Kellie Overbey) never completed her studies and opted to be a stay-at-home Mom of two, now unhappily married to Don, (Lee Tergesen), who settled into a cushy Dean's job and let his academic ambitions evaporate. Catherine (Amy Brenneman) is the only one of the three who's forged a dazzling career as a renowned author and thinker, charting the evolution and progress of feminism in the 21st Century. She's the "hot doomsday chick—the sexy scholar," and popular TV guest speaker. But when her Mom (Beth Dixon) suffers a heart attack, Callie rushes back to her old stomping New England ground to care for her. Alarmed that the only person in her life might die compels Catherine to take stock of her life and choices. Reconnecting with her old college pals forces the trio to examine where they all are right now.
Gionfriddo's dialogue is fast, breezy, funny and natural. Gwen emasculates her husband with a practiced ease, dissing his career as "drinking and failing" and shrilly complaining how he "just likes to surround himself with losers." He slams her in return, complaining how "she can't keep anything to herself." Catherine downplays her meteoric success, explaining how 9-11 and the rise of the internet formed "a perfect storm."
Into the middle of this trio of 40-somethings each at a crossroads, contemplating "the life not lived," the playwright tosses Avery (Virginia Kull), Don and Gwen's 20-something babysitter and wannabe reality show star, and it's a savvy move. The women gather at Callie's sprightly Mom's place for some summer school feminist discussion, and this is the meat of the play. Mom's pre-feminist input is typical of an older generation, despite the fact that Catherine's Mom would have been a young (single?) mother during the fervent 70s. In contrast, we see Avery's shallow dismissal of early suffragette achievements. Callie posits Betty Friedan's anti-marriage idealology against Phyllis Schafly's more hard-line, pro-family directives. A vocal opponent of the Equal Rights Movement during the 70s, Schlafly argued that the women's movement marked the end of marriage and the demise of the family. Some lively discussions ensue and we soon see Avery is not just some flippertigibbet; she has a firm fix on—and a gimlet eye for—the raw truth at the heart of social and relationship politics.
Yet Gionfriddo's play is nothing more than a fantasy scenario, a pleasing 'what if' and brief exploration of hypotheticals that unfolds easily and wraps up relatively neatly.
Despite the robust themes at its core, Rapture, Blister, Burn doesn't leave a mark, not even mild sunstroke.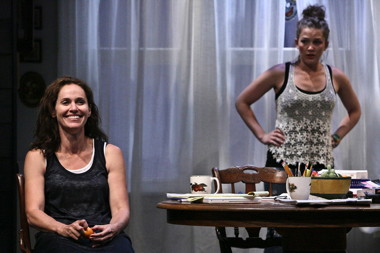 Rapture, Blister, Burn
10886 Le Conte Ave.,
Los Angeles
Performances:
Tuesdays-Fridays, 8 p.m.;
Saturdays, 3 & 8 p.m.;
Sundays, 2 & 7 p.m.
Tickets: $39-$79.00
310-208-5454
Continues through Sept. 22, 2013.