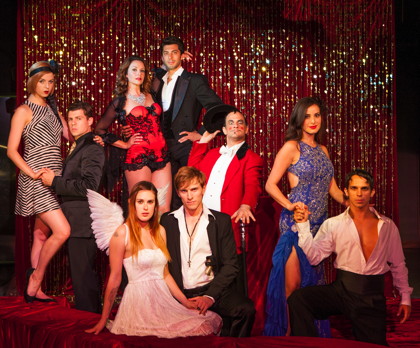 Dramatic lighting sets the mood at Rockwell Table & Stage, for the latest "For The Record" musical production (previously staged)—this time a tribute to the four feature films of creative Australian filmmaker Baz Luhrmann. The cabaret-style show smoothly segues from snippets from Romeo + Juliet to Moulin Rouge! to The Great Gatsby, with a little Strictly Ballroom occasionally thrown in there, complete with outrageous comedy Aussie accents.
The catwalks that run throughout the dining room change for each show, so that the audience is completely immersed in the action. It's thrilling to experience these powerful voices at such close proximity.
The costumes (by Steve Mazurek) are especially luxe for this show, with fringed flapper gowns for Gatsby's 'Roaring 20s' era and also lace, feathers, wire skirts, bustiers and corsets for the fin de siècle setting of Moulin Rouge!
Playing the role of Juliet, Rumer Willis joins the more experienced cast that includes Charissa Hogeland, Ciaran McCarthy, Ginifer King, Steve Mazurek, Payson Lewis, Jason Paige, Jackie Seiden and Derek Ferguson.
Charissa Hogeland as Daisy (from The Great Gatsby) dazzles with a pretty and quiet version of Lana Del Rey's forlorn tune 'Young and Beautiful' while the cast demonstrate their delicate voices in Des'ree's romantic 'Kissing You' from Romeo + Juliet.
In the well-crafted show there's light and shade; power and intensity are beautifully offset by quietude, thanks to director Anderson Davis.
For The Record: Baz Luhrmann is directed by Anderson Davis, with choreography by Derek Ferguson, musical direction by Christopher Lloyd Bratten and produced by Shane Scheel and Siobhan O'Neill.
For The Record: Baz Luhrmann
Show runs from August 22 until October 19, 2013.

Rockwell: Table & Stage
1714 N. Vermont
Los Angeles, CA 90027
*** Turn down Kingswell Ave, just north of Prospect Ave, and then turn right down the alley to find the valet and entrance***
Guests are encouraged to arrive early and enjoy Rockwell: Table & Stage's cuisine and cocktails. There is a two-item minimum.
Performances:
Thursday—Sunday at 8:30PM
Tickets:
$40.00 Reserved / $20.00 General Partial View, with an additional processing fee of $2.20—3.40.
Box Office:
Call (323) 661-6163 (ext 20) or visit their official site.