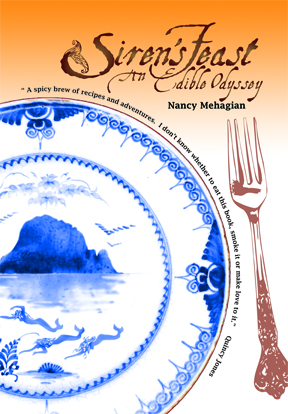 Memoirs have gained a bad rap lately, what with all those recent scandals involving writers who fudged and inflated the facts of their experiences in order to create a more sensational tome.
Then you have to wonder how a memoir differs from an autobiography. Perhaps the easiest explanation is that an autobiography attempts to encompass and encapsulate an entire life's journey, whereas a memoir permits the reader a glimpse of a significant period within a writer's life.
Nancy Mehagian's new book, Siren's Feast – An Edible Odyssey, is a culinary memoir, which makes it extra special. Mehagian takes us through a vivid period of her utterly amazing life and also charts the experience gastronomically, providing several fantastic recipes for us to try. In this way, we can – if we want – not only live through her words but create, smell and taste the foods she is describing.
As soon as I opened this gorgeous book at a random page (the elegant cover and layout was designed by Shawn Bayer), a recipe for Stuffed Baked Fish Fillets with Spicy Tomato Sauce (p.51) caught my eye that I immediately wanted to attempt, mainly because just below the title lies the admonition, "This dish will tempt you to overeat." How well do I know that feeling! This is precisely the kind of meal I want to prepare for my friends and family.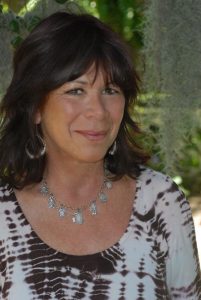 In her book, Mehagian opens her heart and soul and shares her deepest and most personal experiences with astounding candor. Here is a gifted author, whose vivid – often conspiratorial – prose lightly skips from one exciting escapade to another, keeping you in her pocket as she goes. One minute you are sitting beside her, in a fog of hashish as she trips with fellow hippies in Marrakesh, the next minute you are swimming naked in the azure waters of idyllic Ibiza (where she opened the party island's first vegetarian restaurant) or participating in a group meditation at full moon deep in the Arizonan desert.
Descriptions such as "I could feel myself being reeled in…" and "I nearly swooned when I felt his skin on my skin…" permit us an emotional affinity with this expressive writer. Readers will identify with her intuitive descriptions of the subtle sexual politics that ebb and flow when she encounters attraction in her travels.
As gastronomic delights and fabulous meals are such a feature of Mehagian's life, every time she mentions an exotic dish, it is accompanied by a simple-to-follow and clearly well-tested recipe. Every now and again you just want to throw the book down and throw yourself into preparing a banquet! Especially fascinating is her discovery and advanced study of the enriching and ancient Japanese healing technique known as Jin Shin Jyutsu.
Siren's Feast is a marvelous memoir and Mehagian is a talented raconteur who knows how to take her readers on a fascinating journey. If you are willing to be transported to the depths of despair in Holloway Prison, through the menace of Beirut and Kabul and the frenzy of Kathmandu, you will devour the dazzling adventures in this book. Fans of Elizabeth Gilbert's Eat, Pray, Love will definitely enjoy this edible odyssey as Mehagian expertly navigates the highs and the lows of an eventful life that is brimming with joy and discovery.
One of my favorite parts is when the author makes an ill-prepared pilgrimage to a famous holy cave in India that she had read about in Autobiography of a Yogi (also on my 'books-to-read' list). The author describes her drug-free yet psychedelic and life-changing experience in the cave so vividly it's as if you were there, too. Then the people she encounters almost immediately afterwards really bring her back down to earth. I just love how honest she is about it all. I especially loved her strong reliance on intuition. She doesn't go on about it, but it really underpins her decisions, and you see that when she doesn't heed her intuition, things take a turn for the worse. So, listen up, ladies! Your feminine intuition is a powerful force indeed!
I loved that Mehagian presents the pleasant and the unpleasant with equal weight. She never over-dramatizes some fairly extreme experiences, yet sometimes she does seem to gloss over certain episodes… I wouldn't have minded a bit more emotional depth, yet this remains an extremely satisfying and well-worth-it read.
The book ends circa 1976, just as she embarks upon a career as a Jin Shin Jyutsu healer. Her fans are already clamoring for the next installment!
An astounding memoir about food and travel and incredible experiences, Siren's Feast is well-worth reading.
Purchase the book here
or here
— review by  Pauline Adamek