***
Earlier this year, singer-songwriter Kathryn Bostic took the stage at Hollywood"™s Catalina Jazz Club to a warm, welcoming audience that almost seemed hand-picked by the artist herself. Â Indeed, many in attendance were close friends and working associates of the former New Yorker who relocated to warmer climes, both figuratively and professionally, almost ten years ago.
Bostic, a veteran of touring with major stars over the years as a backing singer, began the evening by thanking her audience — it was a packed house. Â A consummate performer, she remained cheery and ebullient throughout the night. Â Curiously, she opened with a jazzy cover song rather than of one of her original compositions, and midway through the set remarked that some present might be surprised to hear her sing her original songs. Â Yet that was precisely what many in the appreciative audience came to hear. This artist is no nominally-talented chanteuse who has managed to maneuver herself into the spotlight, but rather a mature writer, arranger and performance talent.
Bostic then launched into one of her mainly mid-tempo R&B-inflected musings on love, touching on self-awareness within an increasingly cynical society, and offering hope for those who seek it. Â Her lyrics emerge largely from personal observations and experiences, sometimes limned by scars of the heart but expressing a clear optimism for the world.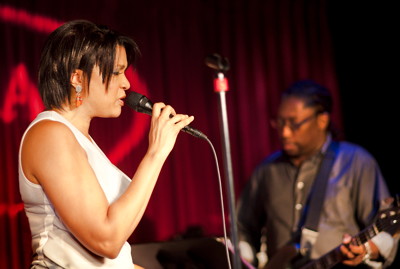 She was more than competently backed by a relaxed cadre of über-professionals that included Will Calhoun of Living Colour on drums and bassist Darryl Jones who has performed with legends such as the late, great Miles Davis, Sting and Peter Gabriel. For the past fifteen or so years Jones has performed and toured with the Rolling Stones. Tom Regis was her keyboard player — he has played with Celia Cruz and Ofra Haza. Local guitarist, Nils Jiptner, a regular presence on LA"™s "The Wave" smooth jazz radio station, also came onstage mid-set to accompany her on electric and acoustic guitars.
At one point the band commenced a song but then stopped. A quick conference onstage ensued and her keyboard player shifted over to a bank of synthesizers so that Bostic could accompany herself on piano.  Seated with her back to most of the audience, Bostic delivered a slow and sensitive ballad, entitled "Safely Home," quieting the room and bringing everyone"™s attention to her pure, lone voice.  It was a magical rendition of a heartfelt tune.
This may have been a spontaneous moment within a calculated and well-orchestrated set, but it also seemed the most immediate. Â While it remains to be seen whether her songs will find their audience and flourish in the commercial sphere, especially in an era where pop radio force feeds stuttery confections lacking melody or hooks, Bostic brought an easy, endearing charm to the stage that night, brimming with sincerity and goodwill.
Kathryn Bostic's ten-song CD (soon to be available for purchase on iTunes) is her forthcoming album, "From Me To You".  The CD features original songs composed by Bostic, and she can be heard singing and playing piano on all the tracks.
Review of "From Me To You" CD here.
6725 W Sunset Blvd #100
Los Angeles, CA 90028
(323) 466-2210
Live performance review by Michael Sena