***
The world premiere engagement of a smash-hit new musical event, Hoboken to Hollywood, is now happening at the Edgemar Centre for the Arts in Santa Monica. Due to massive popular demand, this show has been extended through January 30, 2011.
Additionally, "New Year's Eve With My Baby" starring Luca Ellis and the 12-piece Paul Litteral Orchestra has been announced as a special New Years Eve celebration performance.  Details below.
Written by performer Luca Ellis, musical director and trumpet player Paul Litteral and Jeremy Aldridge, (the latter who also directs) Hoboken to Hollywood: A Journey Through the Great American Songbook is so much more than a superb evening of some of the best music ever composed.
This musical play is set up as a behind-the-scenes insight into the taping of a television special, circa 1964, as we, the audience, are treated as a studio audience. Onstage, performing and live-taping the TV show, along with his killer 12-piece orchestra, is "That Famous Crooner From Hoboken" (a singer who is never named, but is clearly based on the legendary singer Frank Sinatra).
During the course of the television taping, a second assistant director named Andy (Pat Towne) experiences a professional coming of age when he is suddenly thrust into the role of Floor Manager. At first, Andy is a quivering mass of nerves and mistakes. Suffering withering criticism from the show's professional, perfectionist star, invariably Andy rises to the challenge, giving us, the audience, someone to root for throughout the night.
***
The cranky but smooth New Jersey crooner is backed by his orchestra as they give sterling renditions of about twenty or so sublime songs, including Fly Me To The Moon, Old Black Magic, You're Nobody Until Somebody Loves You, One For My Baby and so on. There are even hilarious sixties-style TV commercials – some pre-filmed, others performed live. There's all the fun and excitement of being the in-studio audience members of a fantastic live performance, one that is being recorded for the later enjoyment of millions. We get to experience the electrifying live performances of one fantastic song after another; that's why they call this material 'The Great American Songbook'.
If, like me, you never got the chance, then this is the closest thing to hearing the legendary Frank "Chariman of the Board" Sinatra sing live!
Hoboken to Hollywood: A Journey Through the Great American Songbook is produced by Peach Reasoner and co-produced by Michael Blaha; Musical director is Paul Litteral. Starring Luca Ellis and The Paul Litteral Orchestra.
BACKSTORY:

A couple of seasons ago, director Jeremy Aldridge won the L.A. Drama Critics Circle Award and the Garland Award as the original director of the much-loved show Louis & Keely, Live at the Sahara, when it played at the Sacred Fools Theater and the Matrix Theatre. When that show moved to the Geffen Playhouse, trumpeter Paul Litteral became its musical director. Louis & Keely had one final local incarnation late 2009 at the El Portal Theatre, an abbreviated concert version for the holiday season called A Vegas Holiday, Songs From Live at the Sahara. A Vegas Holiday featured a new artist, a tall, elegantly dressed crooner with a charming stage presence named Luca Ellis. Ellis had something else that made him unique – handsome and charismatic with smooth vocal stylings, Ellis is a vocal dead-ringer for Frank Sinatra.

The three men united to develop this new musical entertainment, Hoboken to Hollywood: A Journey Through the Great American Songbook.
The cast of Hoboken to Hollywood also includes Al Bernstein, Anna Hanson, Chandler Hill, Jeff Markgraf, Franci Montgomery and Pat Towne.
Luca Ellis previously appeared in Sandy Hackett's "Rat Pack Show" at the Sahara in Las Vegas. Ellis also performed at the Las Vegas Hilton.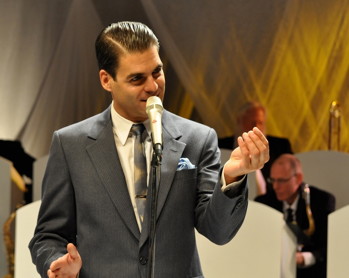 ***
For "New Year's Eve With My Baby" Luca Ellis and the Paul Litteral Orchestra, will be the stars of a special New Year's Eve celebration at Edgemar Center For the Arts on New Year's Eve.  Commencing at 9:30 p.m., Luca and the Orchestra will perform an hour-long concert of big-band standards from The Great American Songbook and your favorite holiday chestnuts.
Then, there'll be a break where patrons can enjoy champagne and strawberries.
This bubbly intermission will be followed by another set of musical standards but, this time, the audience is invited to get on the floor and dance to the great song classics made famous by That Certain Blue-Eyed Crooner From Hoboken and the great big bands.
Then, everyone will ring in the New Year, with festivities officially set to conclude at 12:15 p.m.
To purchase tickets for the New Year's Eve special event ($135.00), go here.
Hoboken to Hollywood: A Journey Through The Great American Songbook.
Edgemar Center for the Arts, on the main stage
2437 Main Street, Santa Monica, CA 90405.
Now through Sunday, January 30, 2011.
Fridays at 8 p.m. on December 10, 17,  January 7, 14, 21, 28.
Saturdays at 3 p.m. on December 4, 11, 18,
Saturdays at 8 p.m. on December 4, 11, 18, January 8, 15, 22, 29.
Sundays at 3 p.m. on December 5, 12, 19, January 9, 16, 23, 30.
Special Sunday evening show at 7 p.m. on December 19.
Special Thursday evening show at 8 p.m. on December 16.
ADMISSION: $34.75. As of January 7, tickets will increase to $49.50.
RESERVATIONS: (310) 392-7327
ONLINE TICKETING here.
Review by Pauline Adamek