***
The 16th Annual Los Angeles Art Show is happening now at the LA Convention Centre, Downtown LA.
~
General show dates are:

Thursday, January 20, 2011, 11am – 8pm

Friday, January 21, 2011, 11am – 8pm

Saturday, January 22, 2011, 11am – 8pm

Sunday, January 23, 2011, 11am – 5pm
~
Drop in to the LA Art Show to see artworks and representation from a staggering 114 galleries from all over the globe, including La Casona Gallery from Cuba. They are the first Cuban gallery ever to exhibit in the United States. You'll want to stop by and check them out when you visit. The gallery director and an artist are available to speak with all interested parties.
~
::STOP PRESS::

Halle Berry just cruised in…  Perhaps Pamela Anderson will also drop by?!
~
With a wealth of quality art to see in the hundred-plus booths,there is definitely something for all tastes and critical eyes.  Aboriginal Art from Australia;  figurative art; classic fashion art photography, sculpture… the list is virtually endless.
At the opening night party on Wednesday, we all enjoyed food and drinks from various sponsors, including superb sushi hand rolls courtesy of Hama Sushi.
Rebecca Hossack's paintings incorporate whimsical origami figures in her work, especially in "The Red Sea." [pictured above]

Photo artist Alex Guofeng Cao's large pieces — entitled 'Icon vs Iconic' — are stunning celebrity portraits with depth and resonance. He takes  photos of iconic women, such as singer Beyonce, sex-bomb Pamela Anderson and retro sex-symbol Brigitte Bardot, and then he blows up the images to massive and impressive proportions. These women are already larger than life!  But when you look closer, you see each of these massive photos are made up of millions of tiny photos, creating the light and shade of a black and white image.  With Beyonce it's her man, music impresario Jay-Z, who makes up the pieces of who she is (at least according to Cao…)

Incredible work!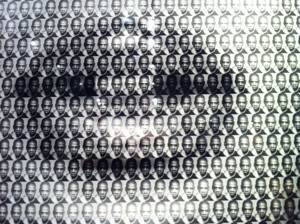 Daily Activities:
Friday, January 21
2pm
Sisterhood City: Feminist Art in Los Angeles
Presented in association with Art Ltd and the Los Angeles Council of Women Artists, this panel will focus on how politics, history, and geography conspired to make California the perfect locus for the genesis of a rich tradition in feminist art. Panel will be moderated by art historian, writer, and critic, Dr. Betty Ann Brown, with further comments by noted critic, Peter Frank.
4pm
Four Stones for Kanemitsu – Film Screening
This Academy Award nominated documentary, directed by Terry Sanders exquisitely explores the collaboration between artist Matsumi Kanemitsu and master printer Serge Lozingot as they create a four-color lithograph.
China, a powerhouse of Asian Art will be the focus of the 2011 show. The China Today program at the Los Angeles Art Show is comprised of a special curated exhibition accompanied by a contingent of prominent Chinese galleries – some of which have never exhibited outside of China – and accompanying lecture programming and film screening. A special exhibit, 'Three Walkers – Crossing Over' presented and curated by Mr. Hu Zhen of Guangzhou-based avant garde 53 Art Museum and sponsored by the prominent Asian Art Magazine Art Gallery Magazine features celebrated artists Feng Feng, Liu Qing-yuan and Qin Jin. China Today provides visitors an opportunity for to see what's really hot in Asian Art.
Don't forget to check out the following exhibits:
Sister-Cities. This exhibition, curated by Nancy Meyer of LACMA and Peter Mays, Executive Director of the Los Angeles Art Association will feature works from prominent and respected artists from select Sister Cities of Los Angeles. Organized by Kamilla Blanche, Deputy of Sister Cities and Arts & Culture for the City of Los Angeles.
  Rarely/Unseen: A Private Collection of Photographs by Henri Cartier-Bresson.The Los Angeles Art Show debuts this private collection of rare images by the master of 20th Century photography, Henri Cartier–Bresson. Curated by Peter Fetterman, owner of Peter Fetterman Gallery and amassed over a twenty-year period, many of these images have not been seen by the public before.
Flora Kao's Ghost Grove.This exhibit, inspired by Chinese landscape painting and presented by the Los Angeles Art Association, employs fabric, paint, and light to simulate the airy play of light and shadow that is an integral component of the outdoor experience of trees.
Vox Humana. The Los Angeles Art Show will present Vox Humana a live art performance by legendary Los Angeles street artists. Featured artists include Andrew Hem and Thierry Noir. Organized by the L.A. ART MACHINE and curated by Bryson Strauss, the art performance will take place during the Los Angeles Art Show from January 19 – 23, 2011.
~
The 16th Annual Los Angeles Art Show
Los Angeles Convention Center, West Hall A
1201 South Figueroa Street
Los Angeles, CA 90015
GENERAL SHOW DATES
Thursday, January 20, 2011, 11am – 8pm
Friday, January 21, 2011, 11am – 8pm
Saturday, January 22, 2011, 11am – 8pm
Sunday, January 23, 2011, 11am – 5pm
Review by Pauline Adamek