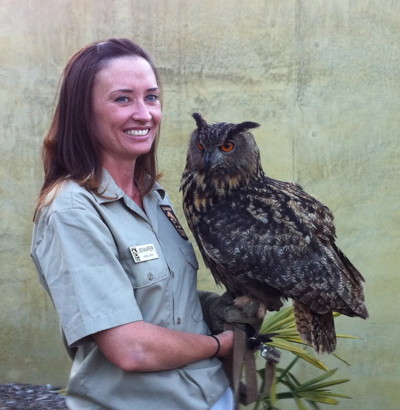 ***
Once again, the doors of the Los Angeles Zoo were opened after hours for their annual Sunset Safari. Hundreds of supporters, along with their eager children, enjoyed a special interactive evening last Saturday, April 16, 2011.
Report & Photos by Pauline Adamek
The super-fun night for Safari Club donors was hosted by the Greater Los Angeles Zoo Association (GLAZA). Patrons of the Safari Club, which is GLAZA's premier annual giving society, enjoyed an evening of socializing, exotic music and buffet supper. Not only did little ones get the chance to touch and get close to some of the Zoo's smaller animals, everyone was able to watch some of the larger animals at feeding time from a safe distance.
The pleasant and balmy April evening was perfect for the super-fun event, which featured a variety of keeper talks who were strolling about the Zoo with owls, pythons and lizards. In addition to the 'animal walkabouts,' which included chats with keepers and the chance to observe small animals up close, Zoo supporters and their families had the magical opportunity to witness feeding time with some of the Zoo's more spectacular animals. We all watched the generally frozen and statue-like Komodo Dragons got animated for a feast of dead rodents. Gorillas were tossed pieces of fruit and fist-sized boules of frozen fruit juice while the tiger prowled around looking for hunks of minced meat.
Guests gained a rare behind-the-scenes glimpse of the gorgeous, brand-new, state-of-the-art, environmentally friendly Elephants of Asia seven-acre habitat, eliciting wry comments comparing the experience to being on the movie set of Jurassic Park. Out front in the Wasserman Family Thai Pavilion, the two female Asian elephants, Tina and Jewel, were hand-fed by their trainers who also encouraged them to do a bit of performing. Meanwhile the bull elephant Billy was indulging in a bit of a tantrum, banging on the gate while his BFFs were being fed.
The tour was followed by lashings of Indian curries and Chinese fare and even a chocolate fountain for dipping fresh fruit. Zoo patrons dined al fresco to exotic music in the Papiano Play Park.
A fantastic time was enjoyed by all!
Sunset Safari is among the many offerings presented by the private, non-profit Greater Los Angeles Zoo Association, founded in 1963. This year marks more than four decades of GLAZA's success in supporting the Los Angeles Zoo and Botanical Garden's work as an educational resource for the citizens of Los Angeles, and as an international center for the conservation of endangered wildlife. GLAZA provides funds and other services for Los Angeles Zoo exhibits, conservation, capital projects, education programs, community outreach, research, and more through fund-raising and an endowment, membership, special events and more.

GLAZA currently has 65,000 member households, the second largest membership base of a cultural organization in Los Angeles. Many of its nearly 300,000 individual members have sustained their GLAZA support for more than 20 years. The Los Angeles Zoo is an international leader in the conservation of endangered species and one of the city's major cultural and entertainment resources.

SAFARI CLUB patrons are immersed in opportunities to experience the Zoo as a catalyst for change in our natural world and to come closer to the animals we all love.

The Los Angeles Zoo is located in Griffith Park at the junction of the Ventura (134) and Golden State (5) freeways.

For information about the SAFARI CLUB, please contact Nancy Simerly at 323 644-4717 or nsimerly@lazoo.org
All photos by Pauline Adamek