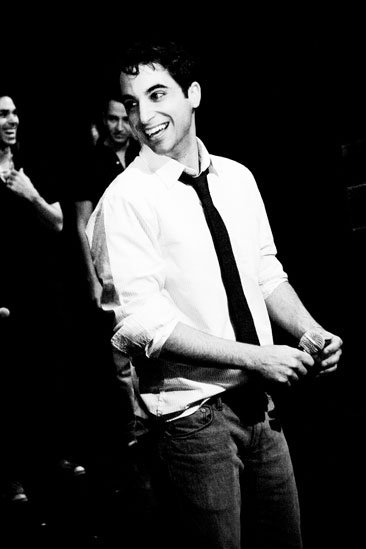 If you're fortunate, you will have seen a multi-talented young singer, dancer, actor, director and writer Joseph Leo Bwarie performing with the Troubadour Theatre Company and at the Falcon Theatre or flawlessly impersonating Frankie Valli in the national touring production of Jersey Boys. On stage Bwarie has a mesmerizing presence, a fantastic vocal range and exactly the right kind of nonchalant skill with his dance moves. He makes it look so easy, and that's a huge part of your enjoyment in watching this gifted performer in his element.
Now this gifted performer has released his very first solo album, and what a superb release! Nothin' But Love is a swinging, jazzy and soulful collection of standard tunes that showcase Bwarie's incredibly smooth, crooning voice. The album also features stunning big-band arrangements produced and arranged by original Four Seasons member and Billboard hit-maker Charles Calello.
Hit tunes such as Broadway songs I've Never Been in Love Before (from Guys and Dolls) and Old Devil Moon (from Finian's Rainbow), Motown hits Stand By Me and Will You Still Love Me Tomorrow? as well as jazz standards Night and Day and I Can't Give You Anything But Love, Baby are backed by a swingin' 40-piece orchestra featuring legendary jazz guitarist Bucky Pizzarelli, with sizzling Latin percussion by the world-famous Paulinho da Costa.
The album kicks off with an up-tempo, brassy, big-band track, Old Devil Moon, that sets the tone of this lively and fun album experience. Bwarie's creamy, dreamy, silky vocal style is pure perfection, ushering you along with him in a swinging trip back to the early, groovy sixties.
Calello's big band musical arrangements are excellent, easing gracefully into slow and gentle tracks, such as If I Had You (a jazz standard from the 20s). Where the arrangements really shine is in the up-tempo tracks, especially in the superb transitions from Latin to Swing in Frenesi and Night and Day. The soaring strings on the initially salsa beat-infused Falling In Love With Love are simply wonderful.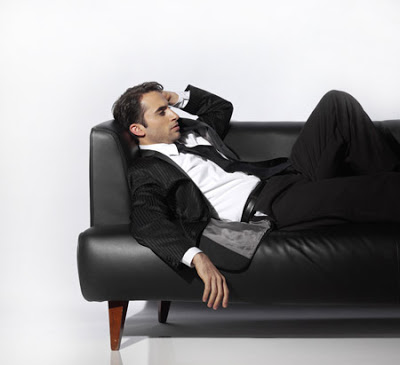 On occasion the band arrangements were a little overpowering during the ballads; If I had You, I've Never Been In Love Before and What'll I Do? in particular. During the vocal passages the band was too dominant and arrangements too busy. Bwarie's sultry voice is the greatest asset to this album and should remain in the center spotlight at all times.
Track 10 is a pleasant surprise – a swinging rearrangement of Rhianna's pop hit Umbrella mashed up with an old-world interlude of Fella with an Umbrella, reminiscent of Singin' in the Rain.
Generally speaking, his singing is gorgeous, but Bwarie could afford to put a little more expression into some numbers in order to develop a distinctive and recognizable vocal style.
Nevertheless, there's no doubt who is the celebrity at the heart of this magnificent album. Joseph Leo Bwarie is one talented guy.  [By the way – if you are curious as to how to pronounce his name correctly, the 'BW' is the sound in 'Buenos' and 'ARIE' rhymes with 'airy' or The Four Seasons' song Sherry.]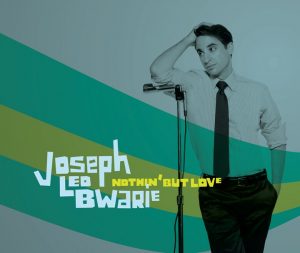 Nothin' But Love is now available for purchase on CDBaby and iTunes, AmazonMP3 and at his home website.