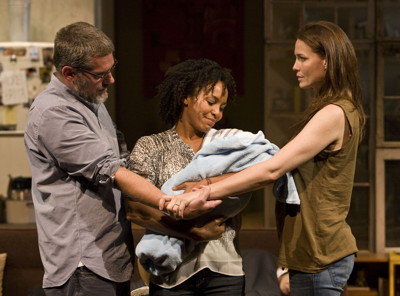 ***
Melissa James Gibson's ingeniously constructed drama, This, is far too clever for its own good.
Sure, it touches on deep (if bourgeois) themes, such as the examination of middle age and mortality and the shifting line between friendship and duplicity. Yes, Gibson's play has an abundance of funny, witty banter as, at times, smart dialogue volleys between two characters much like the exchange of machine gun fire across no man's land. And certainly Gibson has a knack for reproducing natural conversation, as evidenced by her slightly heightened yet still naturalistic-sounding dialogue. She even avoids the sitcom trap of obvious gag set-ups and doesn't overdo the one-line jokes.
But her story of an incident of betrayal within a quartet of close friends proves too cleverly orchestrated and, while entertaining, ends up ringing with a hollow, artificial sound. Case in point: one character's uncanny ability to recall conversations verbatim, demonstrated in a middle scene, is an all-too-handy though hilarious device employed during a heated argument at the climax of the play.
Four longtime friends, now all in their late 30s, gather in one couple's hipster city loft. Jane (Saffron Burrows) is a poet and teacher and also a widow and single mom. Two of Jane's best friends – Marrell (Eisa Davis), a jazz singer/songwriter and Tom (Darren Pettie), a carpenter – are hypersensitive and sleep-deprived new parents prone to bickering. The fourth friend is Alan (Glenn Fitzgerald), the one with the rare gift of mnemonic ability.
In spite of having to tiptoe around because of their fussy newborn, Marrell insists on entertaining in their spacious but cluttered loft apartment. She's decided that a year is long enough for Jane to grieve over the sudden loss of her husband and has invited a sexy French doctor Jean-Pierre (Gilles Marini) to introduce to her forlorn friend. After the gang play a parlor game where they prank Jane, who angrily storms off, Tom shows up at Jane's door and reveals his long held feelings for her in a brilliantly written and tumultuous speech. What transpires next threatens to shatter the group's tight friendship.
In the same way that the parlor game works, Gibson frequently creates a delicious tension between what we and one character (or more) know, and what the other character does not.
One highlight is a wordless domestic scene, where Marrell quietly tries to compose a song on the piano and her husband sands a chair while their baby sleeps, that abundantly demonstrates the growing hostility and estrangement between the two fraught parents.
The scene transitions are remarkably seamless and smooth, thanks to an ingenious scenic design from Louisa Thompson that permits the main loft apartment set to transform into a different apartment's hallway, a little girl's bedroom, a nightclub where Marrell performs (treating us to Davis' exquisite singing) and a public park.
Performances are all excellent, with Burrows giving an especially brilliant and emotionally layered performance as the bereaved widow. New to theatre, model-turned-actor Gilles Marini needs to learn when to hold for laughter as many of his responses were buried by the audience's mirth.
Despite its terribly clever banter and slight storyline, Melissa James Gibson's This is an excellent modern character study and an enjoyable evening of theatre.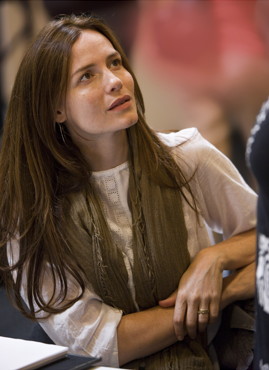 ***
This
Kirk Douglas Theatre
9820 Washington Blvd.,
Culver City, CA 90232.
Performances:
Runs until August 28, 2011
Tues, Wed, Fri, 8 p.m.;
Sat at 2 p.m. and 8 p.m.;
Sun at 1 p.m. and 6:30 p.m.
Additional 8 p.m. performance on Monday, August 22.
Running time:
Approximately 1 hour and 40 minutes, no intermission
TICKETS:
Range from $20.00—$55.00
Box Office:
Purchase tickets here or call (213) 628-2772
Tickets are available online or in person at the Center Theatre Group box office, at the Ahmanson Theatre or two hours prior to performances at the Kirk Douglas Theatre.
Ample free parking is available (weekends and after 6 p.m. on weekdays) at the City Hall, located behind the theatre on Culver Blvd. and Duquesne Ave.