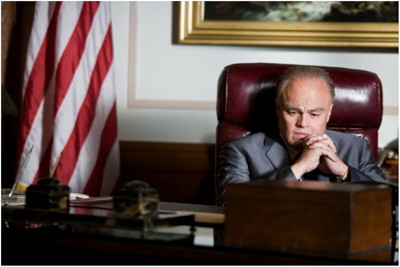 Clint Eastwood's latest movie J. Edgar, a selective biopic about the tyranny and achievements of J. Edgar Hoover (1895-1972), is a curiously unengaging drama. Eastwood goes to great pains to cast his central protagonist in a largely sympathetic light, beginning with the casting of major movie star (and heartthrob) Leonardo DiCaprio as Hoover.
For starters, the guy was a hateful megalomaniac. He created and shaped the development of the Federal Bureau of Investigation with the intention of making it an untouchable government authority. To think that Hoover wanted the entire nation's fingerprints on file in order to easily solve crimes. Simply stated, he argued for a Police State!
With an all-powerful sovereignty that ran for almost half a decade, Hoover became the longest-reigning head of the FBI. As the face of law enforcement in America, J. Edgar Hoover was feared and admired, reviled and revered.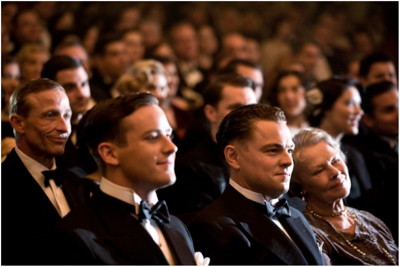 Eastwood's film dizzyingly chops back and forth in time, and charts Hoover's rise to power. We see an older Hoover narrating his version of his life intercut with scenes of the younger version of Hoover during the 30s as he clawed his way to the top of the Bureau of Investigation and formed the FBI. Screenwriter Dustin Lance Black's story frequently focuses on Hoover's close relationship with his doting mother, played brilliantly, as always, by Dame Judi Dench. Naomi Watts is also brilliant as career woman Helen Gandy, Hoover's eternally loyal personal assistant.
Then there's the intensely personal relationship Hoover shared with Clyde Tolson (Armie Hammer), his second-in-command at the FBI. In the movie they vow to eat their meals together twice a day, they go on joint vacations and their final resting place is a few yards from one another. It's clear Hoover and Tolson forged a marriage of some kind that went beyond their working partnership, but nothing is made explicit beyond a couple of professions of love for each other.
Certain other (unproven) personality quirks are alluded to, such as the idea that Hoover was a closet cross-dresser. His FBI colleagues apparently called him 'J Edna Hoover' behind his back, although there's no evidence to support this allegation and I don't remember hearing this comment in the movie.
Eastwood does not shy away from some of Hoover's most notoriously appalling acts, such as his sweeping wiretapping of many public figures and political leaders as well as the blackmail of civil rights leader Martin Luther King Jr. on the eve of his recipience of the Nobel Peace Prize in 1964. Yet him film remains a fairly reverential tribute to a legendary figure.
As the key characters age about forty years throughout, the makeup and prosthetic work by Alessandro Bertolazzi, Sian Grigg and their teams was simply outstanding and deserves the Oscar.  I marveled at how you could not tell where the facial prosthetics ended and DiCaprio began.
The cinematography by Tom Stern as well as all the performances were excellent but the story was not all that compellingly told. Eastwood himself probably composed the delicate musical score, which was especially affecting towards the end, although no credit is listed.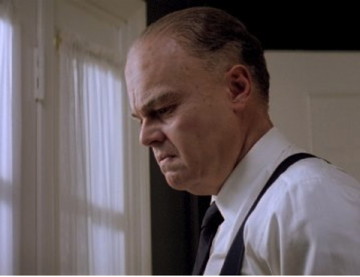 Strictly for fans of American history.
J. Edgar is now showing in Los Angeles cinemas.