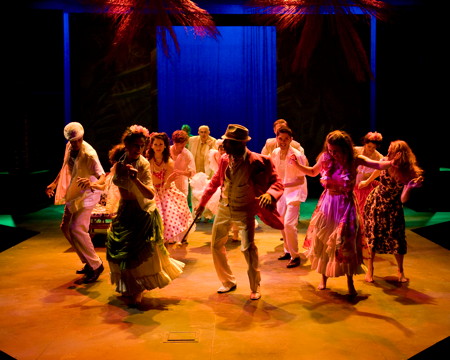 The acclaimed classical repertory theatre company A Noise Within (ANW), led by Founders/Artistic Directors Geoff Elliott and Julia Rodriguez-Elliott, launched its milestone 2011-12 Season and impressive 20th Anniversary in its permanent new home, a brand new 33,000 square-foot, state-of-the-art venue, on Saturday, October 29, 2011. 
The company's handsome new Pasadena home is in the Stuart Pharmaceutical building on the corner of Sierra Madre Villa and Foothill Avenues.
Kicking off the new season was their production of Shakespeare's comedy-of-errors Twelfth Night, Or What You Will, directed by Julia Rodriguez-Elliott.
On opening night Rodriguez-Elliott strode to center stage and welcomed the invited audience with the simple, heartfelt phrase, "Dear friends, welcome home!"
Indeed, the almost 300-strong audience was comprised largely of subscribers and supporters of the long-running theatre company, most of whom had donated generously to the construction of ANW's very own theatre. Raising $13.5 million dollars for a classical theater company during these extremely tough financial times was no mean feat.
The new theatre.
And what a gorgeous theatre it is. The exterior, with its clean lines and lattice-like cement brickwork has a pleasing retro feel, behind which is a balcony for pre-show drinks and conversation. Greeting you upon arrival is a lovely fountain within an appealing oblong shallow pond.
Inside the 283-seat theatre's thrust stage, expansive backstage area and cutting-edge technology, accommodating productions both epic and intimate, promises to provide tremendous opportunities for artistic exploration. At the same time, it preserves A Noise Within's unique theatrical communion between actors and audiences, with no seat further from the stage than seven rows.
Oddly, bare concrete is a dominating theme as there are no plans to carpet neither the auditorium nor the foyer. A handrail along the sloping corridor leading to the bathrooms is sorely needed.
Opening night's play.
Rodriguez-Elliott's interpretation of Twelfth Night, Or What You Will is set during the late '50s in pre-revolutionary Cuba. Why? To add some exotic flavor to yet another one of the Bard's rather familiar comedies centering on mistaken identities.
Unfortunately, beyond a few energetic musical and dance episodes that attempt to draw on that island nation's festive charm and Latin rhythms, the text remains resolutely Shakespearean and rooted in its Elizabethan language. Absent are any textual allusions to Cuba of any kind. Which begs the question, why stage the play in that milieu if you are not going to explore and develop its selected setting for all it's worth?
Additionally, the play's staging was disappointingly dull and sparse. A handful of props and furniture pieces were occasionally wheeled on and offstage while upstage stood a mere trio of tall set pieces consisting of grey louvered panels, replaced later by three tall palm trees with bushy red fronds.
The company's ensemble was in fine form as always, attacking their parts with relish and aplomb. I must say I am growing weary of Geoff Elliott's tendency to channel the tremulous and sing-song vocal style of Michael Caine, yet I'll allow it felt appropriate to his interpretation of the rather pretentious and ridiculous character of Malvolio. Deborah Strang was lively as the playful Maria and Apollo Dukakis gave a decent rendition of Sir Toby Belch.
But for a grand opening night I expected a more splashy, vibrant and memorable show.
I'm sure budgets are still tight, but where were the live musicians – some Cuban percussionists at least? What about a hail of glitter or streamers to mark the 'final curtain' of the very first opening night in the new theatre? Or perhaps an actor-led conga line throughout the theatre and into the night to create an upbeat conclusion to the play?
A Noise Within consistently delivers the finest interpretations of the classic plays they select for their repertoire. I'm a little disappointed that this noteworthy opening night didn't knock our socks off.
Production photos by Craig Schwartz
Photo Credit for All Building Images: Michael Gustadt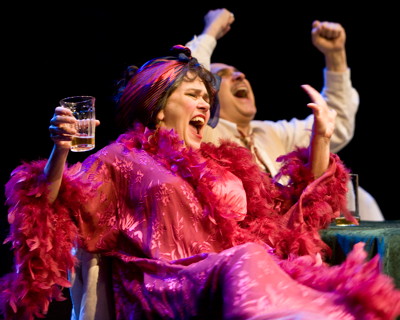 Twelfth Night, Or What You Will

A Noise Within
3352 East Foothill Blvd.
Pasadena, CA 91107
Located on the corner of Foothill Boulevard and Sierra Madre Villa Avenue.
Free self-parking is located in the Sierra Madre Villa Metro parking structure, with entrances on northbound Sierra Madre Villa Avenue or North Halsted Street.
Performances:
Runs until Friday, December 16, 2011.
Sunday, October 30, 2 pm
Saturday, November 5, 8 pm
Saturday, November 26, 8 pm
Sunday, November 27, 2 pm
Sunday, December 4, 2 pm
Sunday, December 4, 7 pm
Friday, December 9, 8 pm
Saturday, December 10, 2 pm
Saturday, December 10, 8 pm
Thursday, December 15, 8 pm
Friday, December 16, 8 pm
Running time:
Approximately 2 hours, 25 mins including a 15 minute intermission.
TICKETS:
Single Tickets —
$46 (Friday and Saturday evenings and Sunday matinees);
$42 (Wednesday, Thursday and Sunday evenings, Saturday matinees);
Group rates and special rates for school groups available
Box Office:
Purchase tickets here or call (626) 356-3100
The New Theatre:

 

Programming for A Noise Within's highly anticipated inaugural year in this spectacular theatre embodies ANW's trademark mix of timeless classics.  Featured are six captivating masterworks: the company's new treatment of Shakespeare's TWELFTH NIGHT, OR WHAT YOU WILL, Eugene O'Neill's DESIRE UNDER THE ELMS, Shakespeare's ANTONY AND CLEOPATRA, Tony Kushner's adaptation of Pierre Corneille's THE ILLUSION, Molière's THE BUNGLER, and a reprise of ANW's critically acclaimed, popular staging of Michael Frayn's NOISES OFF.