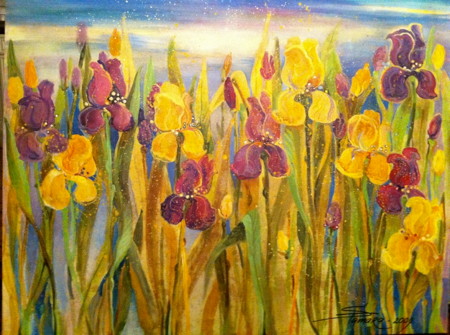 The Art Addiction presents Angels & Demons Art Exhibit as angels and demons invade Sunset Plaza this Saturday.
                 Come if you dare and let two worlds tear you apart.
The Art Addiction brings the Angels & Demons art exhibit to the heart of West Hollywood in December 2011.  In partnership with an international art festival Master Class, that is curated by the director of the world famous Hermitage Museum M.B. Potrovsky, the Art Addiction opens up an art dialog of the world renowned artists of Los Angeles, Moscow and St. Petersburg.
Curated by Maria Ziering and Carina Ayden, this stunning art show will feature art works from painters including: Tamara Semenova, Stuart Kusher, Sasha Krivtsov, Boris Gudanaev, Azat Mamedinov, and Gregory Pototsky.
The Angels & Demons art exhibit will reflect the vision and the mission of the Art Addiction company – to foster creation, push boundaries and build bridges, also to encourage tolerance, appreciation and enjoyment of the visual arts.
Several artworks will be auctioned off with the proceeds going to support the Hedge Fund Cares Charity:
1 "I won't say you did it" 24×20 oil on canvas by Sasha Krivtsov $4200
2 "Nostalgia" 24×18 oil on board by Sasha Krivtsov $4000
3 "The morning" oil on canvas 32″x23″ by Boris Gudanaev       $16.400
4 "Aura of St.Petersburg  40″x 48" by Tamara Semenova            $17.500
5 "Irises"  40″x48″ by Tamara Semenova            $16.500
6 "Lotus" diptych 35″x27″ by Azat Mamedinov              $7.000 (each piece)
~~~~~~~~~~~
Angels & Demons Art Exhibit
Opening reception:  Saturday, December 10, 2011 @ 8pm
Featured music guest: Purple Melon.
Drinks and hors d'oeuvres will be provided.
Location:
Sunset Plaza
8590 Sunset Blvd.,
West Hollywood, CA, 90069
MEDIA OPPORTUNITY: December 10th, 7pm.
Please note:  The filming of a documentary will take place during the show.
Exhibition runs from Saturday, December 10 through Saturday, December 21, 2011
The mission of the Art Addiction company is to be the leader in the presentation and promotion of contemporary visual arts not only within the US, but also through out the World. Through exhibition, outreach, and related programming, we are dedicated to the cultural enrichment. We work with non-profit and charitable organizations. Several pieces will be auctioned during the show to support these charities. Through dedication to excellence and high standards, the Art Addiction company strives to promote the importance of the arts in the enrichment of life. Art makes life worth living, it crosses borders and unites cultures.