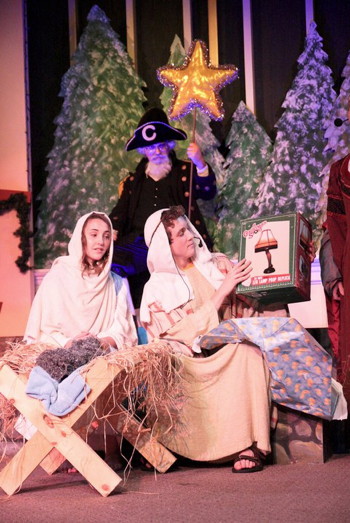 It's still the age-old story: a boy and girl go to Bethlehem, Herod goes postal, Caesar goes Vegas, baby, the Occupy Bethlehem encampment stinks to high heaven and well, we're not really sure how Lady Gaga got to the intersection of BC and AD, but she and Sir Elton sing a lovely duet.
Nativity! The Musical, going into its seventh year, takes the concept of the traditional Christmas pageant and turns it on its ear, employing pop hits and show tunes, Borscht-belt humor and figures from today's headlines to render the Nativity story more relevant than ever.
This original musical comedy, written and directed by entertainment industry veterans Greg and Melissa Baldwin, will be staged by Imagine, the drama ministry of Westminster Presbyterian Church on December 15 through 18 (see times below) in the church's sanctuary.
Isabela Schoenke and Ben Hobson, who are sophomores at John Burroughs High School, play Mary and Joseph. The cast of 98 (!) also includes W. Earl Brown, who reprises his role as Herod The King, re-imagining the Rolling Stones' "Sympathy for the Devil" as the villain's theme.
"The Nativity story is unique in the pantheon of religious 'origin' stories in that it is the story of the Promise of God stepping into the real world; literally, God gets down in the mud with women and men. Because of that things didn't go the way anyone thought they would or should. Nativity! The Musical is our unique slant on that aspect of eternity stepping into time," says Paul Clairville, the pastor of Westminster Presbyterian, who plays the Innkeeper and appeared in the 2010 film Pickin' & Grinnin'. "This isn't the Glory of Christmas of the Crystal Cathedral variety (which is a good thing since that would place the Christmas story into receivership) this is a good hearted dance of joy, of laughter, of tears and hope which is after all what having a baby is all about . . . even a baby who was the Lord of all that is and who spoke the world into being."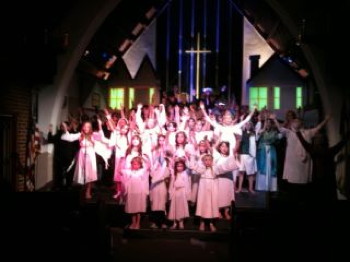 Nativity! The Musical
Westminster Presbyterian Church
542 N. Buena Vista Street (at the corner of Buena Vista and Clark)
Burbank.
Performances:
December  15 (7 p.m.)
December 16 (8 p.m.)
December 17 (2 p.m. and 8 p.m.)
December 18 (2 p.m. and 8 p.m.)
Tickets:
$10 per adult (or $8 in advance) and $7 per student (or $5 in advance).
For tickets or more information, call Westminster Presbyterian Church at (818) 842-5264 or purchase here.