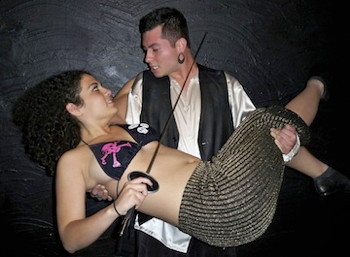 Hello all!
This week's theatre review for the LA Weekly is of Zombie Joe's Underground Theatre's late night Christmas offering,
CHRISTMAS THRILLS AND HIGH ADVENTURE
Happy reading!
Scroll down to find it.
~~~~~~~~~~~~~~~~~~~~~
Or just read it here:
Zombie Joe's Underground Theatre takes a break from its usual Grand Guignol gore to present Richard Nathan's zany collection of holiday miniplays. Short and sweet, the Christmas-themed sketches feature songs, comedy and scenarios that range from an Elizabethan setting to a frontier tale to futuristic space travel.
The late-night show kicks off in style with a racy rendition of "Santa Baby" as a passel of cute, red-cheeked elves sing and strip down to their underwear and beyond, revealing tinsel-encrusted nether regions. In "The Visitor," deep-space denizens get an unexpected visit from Santa.
Denise Devin directs an energetic young cast of 10 who enthusiastically pull out all stops to give every character they quick-change into the maximum intensity and commitment. Kevin Michael Shiley is especially good as a hardboiled P.I., while Shali Mals brings an astounding and hilarious ferocity to her performance as a swashbuckling pirate on the high seas.
Zombie Joe's Underground Theatre,
4850 Lankershim Blvd., N. Hlywd.;
Fri., 11 p.m.; thru Dec. 30. (818) 202-4120,
(Pauline Adamek)