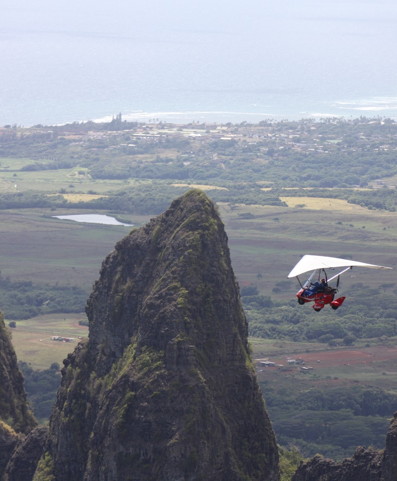 Newly released on DVD is an astonishing travel documentary about the jewel of the Pacific – the garden isle of Kauai. Geologically the oldest of the main Hawaiian Islands, Kauai is the fourth largest of the main islands in the Hawaiian archipelago.
An exquisite one-hour travelogue, Epic Kauai grants you an exhilarating bird's eye view of this gorgeous island as you take to the skies with FAA-certified pilot Gerry Charlebois. Owner of the flight tour company Birds in Paradise, Charlebois takes visitors to his island up into the skies in his nifty ultra light planes, offering intrepid passengers a chance to skim the clouds as well as learn the basics of how to co-pilot these amazing flying vehicles. It was after accruing hours and hours of stunning footage from these flights that Charlebois was inspired to turn the images and visual sequences into a DVD movie.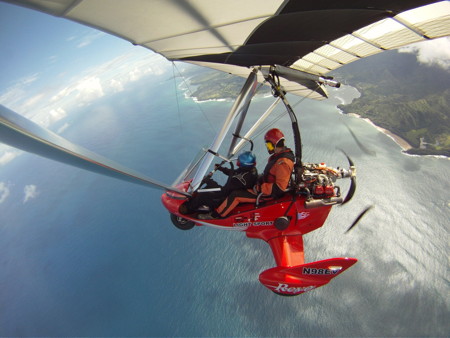 Narrated by voice-over specialist Pat Fraley, and expertly co-produced by Ash Revell, Epic Kauai unfolds as a gentle narrative that introduces you to the wonders of this dazzlingly beautiful and unspoiled island.
This travelogue takes you on a journey high above the island, showing you spectacular sights you can only see by air. Showcasing the rugged Na Pali coastline, the remote Waimea Canyon, skimming above white sand beaches, turquoise waters and the lush valleys – the incredible thrills of Epic Kauai will have you booking your trip of a lifetime.
Not simply a collection of stunning aerial photography, Charlebois also takes you diving through the reefs and hidden caves of Kauai, kayaking through immaculate surf, delving underneath the pounding waters of the powerful Wailua Falls to show you sights only a stuntman (such as Charlebois) would dare to attempt. He takes you boating around the pristine coastline and even lashes himself to the bow in order to capture underwater footage of a pod of dolphins as they swim and gambol alongside his Zodiac inflatable boat. It's thrilling stuff!
Whether you book your own flight with Birds in Paradise or enjoy the DVD in the comfort of your own home, Epic Kauai is a viewing experience you will remember for years to come.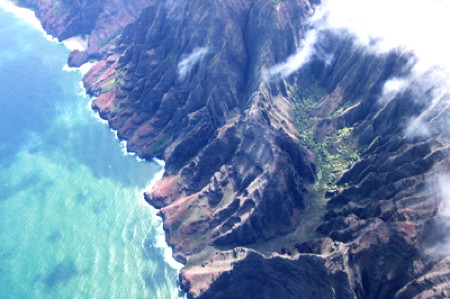 Epic Kauai is out on DVD ($14.95) and available for purchase at major stores nationwide, such as CostCo and WalMart, and also at their official site here.
To view a brief trailer, click here.