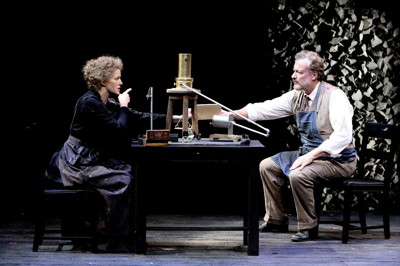 Actor Alan Alda turns his hand to playwriting and sets his focus on the life and loves of Marie Curie. (The actor is most famous for playing Hawkeye from the hit TV show M*A*S*H, but also for directing and appearing in feature films.)
Making its world premiere at the Geffen Playhouse, and directed and beautifully staged by Daniel Sullivan, Radiance: The Passion of Marie Curie delves into the life and romances of one of the most brilliant female scientists in history.
Donning a frizzy wig and stifling, drab turn-of-the-century gowns, Anna Gunn takes on the title role of celebrated scientist, bringing a sensitivity and gravity to her rendition of this intriguing historical figure. Hers is a luminous performance.
Marie Sklodowska Curie, (1867–1934), was a Polish–French physicist and chemist famous for her pioneering research on radioactivity. Curie was the first female scientist to win worldwide acclaim and is considered one of the greatest scientists of the twentieth century. She was the first person to be honored with two Nobel Prizes, in two fields, no less; Physics and Chemistry. (She shared the first prestigious award, for Physics, with her husband and scientific working partner, Pierre Curie, along with Henri Becquerel who essentially discovered radioactivity.) Notably, Curie was the first female professor at the Sorbonne (University of Paris). She was also the first woman to be entombed on her own merits (in 1995) in the hallowed Paris Panthéon.
Yet along with these career 'highs' came some devastating personal 'lows.' In his celebration of the astonishing mind of an extraordinary woman, actor/writer Alan Alda has turned a fascination with the career, life and loves of this compelling and brilliant subject into his first full length play.
Alda's play focuses on the years that loosely span the recipience of her two Nobel Prizes, from 1898—1911 and champions Curie's indomitable spirit, exploring how she battled all kinds of adversity in the dogged pursuit of scientific discovery. Celebrated but then rejected and even vilified by the popular press as both a woman and scientist, Curie struggles to define her place in society – and history – on her own terms even as her health becomes increasingly debilitated by her dangerous work.
Through his writing, you can feel the excitement among the scientists as they develop their theories and describe obsessive hours of toil in their labs. Yet some of Alda's dialogue seems a little too obvious, too expository – I craved more poetry and allusion within the exchanges. Additionally, his storyline is too linear, too episodic…
Nevertheless, this is a fine play full of fine performances. The luminous subject alone should get you to the theatre.
~
Production photos by Michael Lamont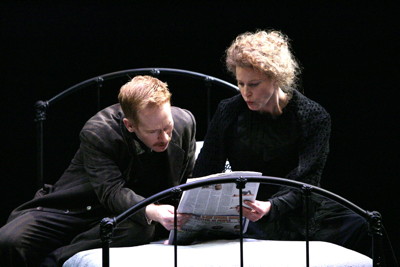 Radiance
Geffen Playhouse
10866 Le Conte Ave., Westwood.
Runs until Sunday, December 18, 2011

Tue.-Fri, 8 p.m.;
Sat., 3pm and 8 p.m.;
Sun., 2pm and 7 p.m.
Running time:
Approximately 2 hours with a 15 minute intermission.
Tickets:
Range from $82-87.00, plus booking charges.
Box Office:
Purchase here or call the box office on (310) 208-5454
ABOUT THE GEFFEN PLAYHOUSE

The Geffen Playhouse has been a hub of the Los Angeles theater scene since opening its doors in 1995. Noted for its intimacy and celebrated for its world-renowned mix of classic and contemporary plays, provocative new works and musicals, the Geffen Playhouse continues to present a body of work that has garnered national recognition.

Named in honor of entertainment mogul and philanthropist David Geffen, who made the initial donation to the theater, the company is helmed by Artistic Director Randall Arney, Managing Director Ken Novice and Chairman of the Board Frank Mancuso.

Proudly associated with UCLA, the Geffen Playhouse welcomes an audience of more than 130,000 each year, and maintains an extensive education and outreach program, designed to engage young people and the community at large in the arts. For more information, please visit their official site.
text