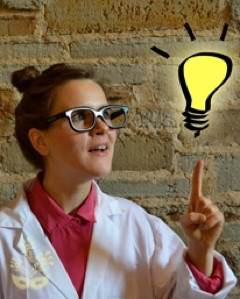 Everyone knows that Marie Curie was a brilliant scientist. But most people don't know that she was also the silliest and most hilarious scientific boffin that ever existed! Okay, so maybe she wasn't. But we can pretend she was, right?
In Brilliance! – a musical sketch comedy show – the Geffen Playhouse Story Pirates will inspire audiences of all ages to laugh and cheer their way through a fast-paced and interactive exploration of Madame Curie's radioactive discoveries, which made her the first woman ever to win a Nobel Prize.
This companion piece to Alan Alda's Radiance: The Passion of Marie Curie, also currently playing at the Geffen, is intended for families and pretty much anyone who could use a laugh while learning about the mysteries of the universe and the sheer brilliance of Marie Curie.
Geared towards kids ages 5 through 11, this fun and lively interactive show introduces audiences to the ideas behind Curie's experiments with radioactivity with tons of humor,
Stick around after the event to meet the cast of Brilliance! and enjoy a snack.
Bring the family and laugh while learning about the scientific mysteries of the universe!
~
Brilliance! An Interactive Family Comedy about Madame Curie
Geffen Playhouse – Audrey Skirball-Kenis Theater
10886 Le Conte Avenue
Los Angeles, CA 90024
Performances:
Select Saturdays at 11am.
December 3, 2011
December 10, 2011
Suitable for ages 5-11
Tickets:
$15.00 – Adults
$10.00 – kids