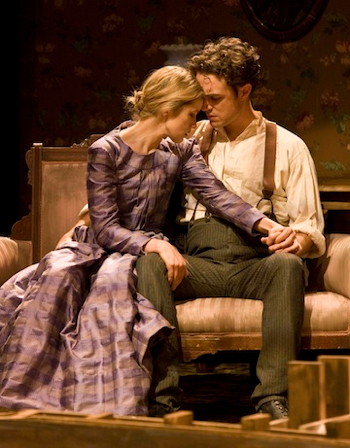 Gentle readers, here is a link and reprint of last week's theatre review for the LA Weekly, of Eugene O'Neill's disturbing drama,
Read it here:
 GO — DESIRE UNDER THE ELMS
Pitch-dark Greek tragedy themes are comfortably transposed to a rural New England setting in Eugene O'Neill's sordid classic American drama.
Three farmer sons hold no love for their craggy and brutal patriarch, absent while they toil on the farm. Using 30 coins stolen from their father, the youngest pays off his half-brothers to gain complete shares of the property, enabling the elder pair to seek gold in California. But Pa's new young wife is a wily one, scheming to inherit the farm by producing an heir.
Under Damaso Rodriguez' superb direction, the performances are all excellent, playing up the intense, high drama and never dissolving into melodramatic drivel. The non-naturalistic dialogue shimmers with its undercurrent of greed, lust and duplicity and certain exchanges are startling in their ferocity. Jason Dechert as the youngest son Eben and Monette Magrath as the new young wife Abbie burn up the stage with their incandescent sexual passion.
Designer John Iacovelli's cut-open farmstead set reflects the rawness of the play's themes while Julie Keen's costumes add grit and authenticity.
The plaintive strains of a live fiddle player (Endre Balogh), onstage and throughout the auditorium, lend a haunting quality.
Desire Under The Elms.
3352 E. Foothill Blvd.,
Pasadena
Performances:
Sat., Nov. 19, 8 p.m.; Sun., Nov. 20, 2 p.m.; Thu., Dec. 1, 8 p.m.; Fri., Dec. 2, 8 p.m.; Sat., Dec. 3, 8 p.m.; Sun., Dec. 11, 2 & 7 p.m.; Sat., Dec. 17, 2 & 8 p.m.; Sun., Dec. 18, 2 p.m.
(626) 356-3100