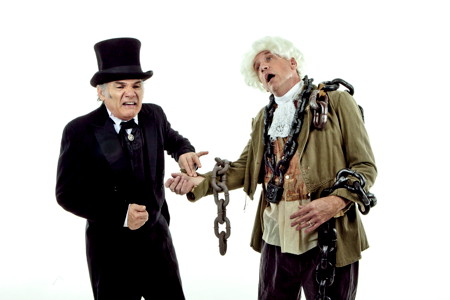 Hello dear readers!  Here is a link to this week's theatre review for the LA Weekly,
Or you can read it here —
Katrina Wood's new take on that yuletide chestnut A Christmas Carol is a brave and mostly successful attempt to spice up Dickens' classic tale by adding some contemporary musical flair.
Thus, the ghost of Christmas Present (Athena Rose) appears as a sexy punk rocker complete with spiky black wig and iPhone.
Chas Mitchell as grumpy old Scrooge looks the part, with his silver muttonchop sideburns, bushy eyebrows and a permanent scowl. But when the slave-driving geezer is visited by the ghost of his former partner Marley (Jim Cox, making an especially dramatic entrance) and later by three spirits, cantankerous old Scrooge gains a sunny personality.
The drama has its amusing moments, while the carols, delightful original songs and dance sequences are refreshing and lively.
Director Trace Oakley occasionally fails to rein in some extreme overacting, but even that adds to the heightened fun. Emily Bridges is in fine voice in her tender performance as spurned Nell, and Zachary Rice is angelic as Tiny Tim.
Secret Rose Theater
11246 Magnolia Blvd., N. Hlywd.;
Fri., 7:30 p.m.; Sat., Dec. 10 & 17, 3 & 7:30 p.m.; Sun., Dec. 11 & 18, 11 a.m. & 3 p.m.; Thurs., Dec. 22 & 29, 7:30 p.m.; Sat., Dec. 24, 2 p.m.; Sat., Dec. 31, 2 p.m.; thru Dec. 31. (877) 620-7673, secretrose.com. (Pauline Adamek)