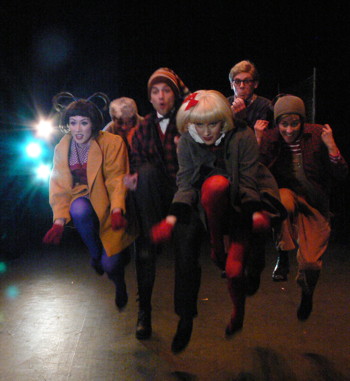 What more can be said about the Troubadour Theatre Company, who each year bring their own hilariously warped and satirical style of musical comedy to a beloved Christmas tale?  This year they have mashed-up the stunning musicality of West Side Story with the early eighties kiddie yarn 'A Christmas Story' to create A Christmas West Side Story.
Who else but those ultra-talented and po-faced Troubies can take the superb and intense choreography of Jerome Robbins and send it up brilliantly? The entire cast has fantastic dancing skills, while choreographer Molly Alvarez has skillfully adapted the intricate choreography to this small stage to great effect.
With the original musical featuring soaring music by Leonard Bernstein, tender lyrics by Stephen Sondheim, and a gripping story and book by Arthur Laurents, here was a case where the confluence of exceptional talents created magic; West Side Story is "lightning in a bottle."
Miraculously, Bernstein's magnificent score is as complicated as the dance, yet the exceptionally talented four-piece band led by Eric Heinly virtually replicates the full orchestra sound. (Only occasionally was the blaring brass section conspicuously absent.)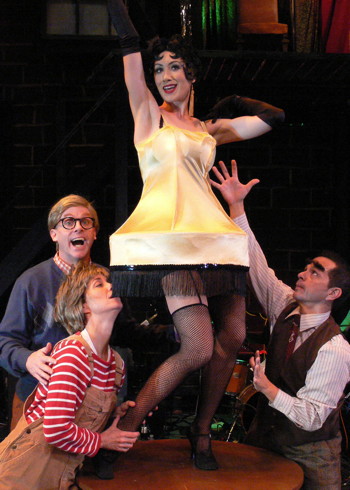 Meanwhile, the gang warfare between the Jets and the Sharks from West Side Story is somehow seamlessly merged with the story of little Ralphie (here played by company Artistic Director and writer Matt Walker) who badly wants a BB gun for Christmas.  Hence, the lyrics for the romantic song Maria – "I just met a girl named Maria!" – become "I just held a red rifle rider!"
Highlights include Rick Batalla as 'Old Man' – whose eyebrows need their own zipcode. His random Marlon Brando/Godfather impression is one of many laughs of the night.
If you have any trouble obtaining tickets, then I urge you to become a subscriber to the Falcon Theatre.
Photos by Chelsea Sutton.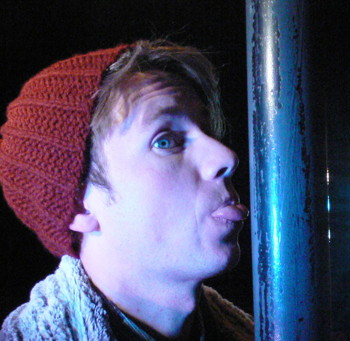 A Christmas West Side Story
Falcon Theatre
4252 W. Riverside Drive
Burbank, California
Performances:
Runs until Sunday, January 15, 2012
Wed. – Fri. at 8pm,
Sat. at 4pm & 8pm,
Sun. at 4pm & 7pm
*** No shows Dec. 24, Dec. 25, Dec. 31 & Jan. 1 ***
Running time:
Approximately 1 hour, 50 minutes, including a 15 minute intermission
TICKETS:
Weekdays (Wed/Thurs) $34.50 – $37.00
Weekends (Fri/Sat/Sun) $39.50 – $42.00
Student Rate (valid student ID) $27.00
Box Office:
Tickets can be purchased online here or
call the FALCON THEATRE BOX OFFICE at (818) 955-8101