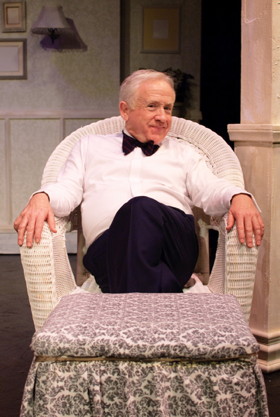 Star of stage and screen (most notably his Emmy-award winning role as Beverley Leslie on TV's Will and Grace and as Emma Stone's boss at the newspaper in the movie The Help), Leslie Jordan is currently gracing Hollywood's Celebration Theatre stage with his latest hilarious solo show. Fruit Fly is playing until February 18, 2012.
Essentially a fond love letter to his Southern Baptist mother Peggy Ann Jordan, Jordan's fourth autobiographical show has all new material. Not having caught any of his other shows, I have to wonder what they were about because this show is crammed full of highly personal events and anecdotes.
Directed by David Galligan (in fact, this is the fifth show Jordan and Galligan have collaborated on) Jordan prances delightfully around the intimate Celebration space, charming his enraptured audience with his refined Southern drawl and confidentially sharing personal tales of his upbringing and coming out during the disco seventies. Family photos projected upstage helpfully illustrate his reminiscences. Everything bubbles along until tragedy strikes and shatters his family, but Jordan brings the laughs back into the evening soon enough.
One memorable anecdote relates how he and a bunch of friends, all of whom were seriously into drag performances, concocted a brilliant plan to win a $300 prize for best drag act in order to pay their collective rent. Suffice to say you'll never think of Patsy Cline's famous song Crazy the same way again.
Jordan's show is short, sweet and Southern. Don't miss it!
Fruit Fly
7051-B Santa Monica Blvd., Los Angeles
Performances:
Runs until February 18, 2012.
Thurs.—Sat. 8 pm; Sun. at 3 pm.
Running time:
Approximately 1 hours and 15 minutes – no intermission
TICKETS:
$34.00
Box Office:
Purchase tickets here or call (323) 957-1884