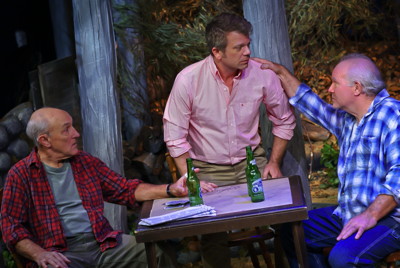 Hello dear readers!
My last week's theatre review for the LA Weekly was for Ty DeMartino's play Finding Fossils, now playing at The Road Theatre in NoHo.
Click here and scroll down to read it.
~ OR ~
You can just read it here!!
Enjoy!
Crotchety old-timer Vincent (John Gowans) really doesn't like his son, Gus (Chet Grissom). Can you blame him? Gus is a – groan! – New Yorker who directs ghastly TV soaps. Though desperate for his father's approval, Gus never wanted to hike or fish up at the idyllic riverside cottage to which Dad has retreated since his wife died. Now Gus and his husband are planning to adopt a 5-year-old black kid, which ruffles Dad's racist and antigay feathers.
Unlike in most dysfunctional families, the family members in Ty DeMartino's rambling, one-act drama are at least honest with each other. As Gus, Grissom gives a mannered yet defeated performance of a guy striving for intimacy. Gowans' drunkard is paranoid and irreparably antisocial. Mark Costello as Johnny, Vincent's sometime neighbor and sole friend, acts almost as a therapist, helping Gus see things from his father's perspective. Desma Murphy's fine set for the cabin also is used for Theresa Rebeck's The Water's Edge, running in rep.
The Road Theatre Company
At the Lankershim Arts Center,
5109 Lankershim Blvd.,
North Hollywood
Performances
Wed.-Thurs., 8 p.m.; Sun., 7 p.m.; through March 25.
(818) 752-7568