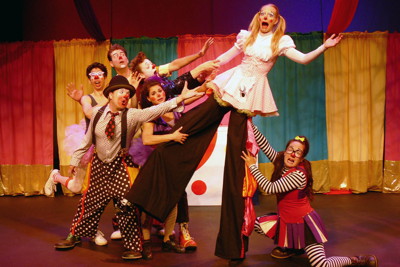 The Troubador Theater Company's 'Funky Punks' are some of the friendliest and silliest clowns around.
Employing a creative use of simple props and settings, the cast of merry pranksters jump around the stage brimming with energy and enthusiasm.  In a variation of the old "car full of clowns" circus gag, they each emerge onto center stage via a seemingly bottomless and gaily-painted toy box and make their introductions.
We meet a cowboy, a ballerina, a computer nerd, a coach, a football pro and a tough-talking 'home boy', to mention a few.  All the clowns are decked out in zany and colorful outfits, resplendent in stripy stockings, rainbow suspenders, polka-dot bow ties, silly hats and, of course, funny noses and freckles.
The silly and the spectacular join forces for this high-energy, interactive circus extravaganza which includes everything from puppets, stilt-walkers and jugglers to trampoline tricksters, super slippery table sliders, pratfalls, balancing tricks, breathtaking trapeze artistry, general tomfoolery and funny business and even a plunger!
The uncontrollable giggling from kids in the audience is almost as funny as the on-stage antics.
After the show, the little ones can meet all the clowns and get their programs signed.
Funky Punks is a wonderful and fun-filled show for tiny tots.
Don't miss it!  ***One LA performance ONLY***
(Also two performances on one day only at the La Mirada Theatre for the Performing Arts, on Sunday, July 22, 2012, info below.)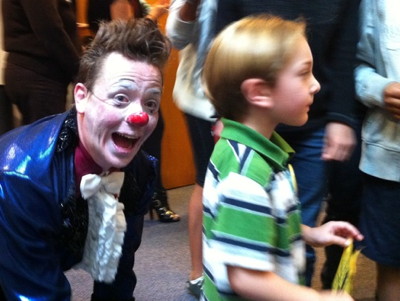 Geffen Playhouse
10866 Le Conte Ave., Westwood.
Performance:
March 3, 2012
11:00 am performance
Ages 5-11
Subscribers can access the best seats at 10:30 am
Stay for snacks and meet the cast after the show!
Subscribe to three or more Saturday Scene performances for:
* Discounts on already low-priced child and adult tickets
* Preferred seating
* Early access to pre-show workshops, when available
Running time:
Approximately 1 hour.
Tickets:
Adults $15
Kids $10.00, plus booking charges.
Box Office:
Purchase here or call the box office on (310) 208-5454
ABOUT THE GEFFEN PLAYHOUSE

The Geffen Playhouse has been a hub of the Los Angeles theater scene since opening its doors in 1995. Noted for its intimacy and celebrated for its world-renowned mix of classic and contemporary plays, provocative new works and musicals, the Geffen Playhouse continues to present a body of work that has garnered national recognition. Named in honor of entertainment mogul and philanthropist David Geffen, who made the initial donation to the theater, the company is helmed by Producing Director and President of the Board Gilbert Cates, Artistic Director Randall Arney, Managing Director Ken Novice and Chairman of the Board Frank Mancuso. Proudly associated with UCLA, the Geffen Playhouse welcomes an audience of more than 130,000 each year, and maintains an extensive education and outreach program, designed to engage young people and the community at large in the arts. For more information, please visit their official site.
::STOP PRESS:
The Funky Punks will also be performing at —
The La Mirada Theatre for the Performing Arts
One day only!
Sunday, July 22, 2012
1:00pm and 3:30pm
Click this link for tickets and info.