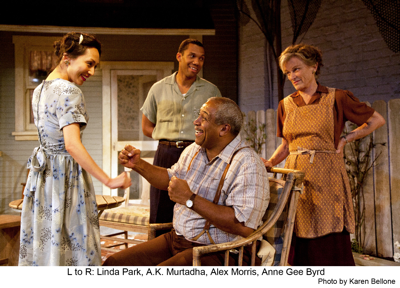 They simply don't write plays like they used to. They really don't. Born in 1915, Arthur Miller was a prominent figure in American literature and cinema for over 61 years, until his death in 2005. His works remain the standard against which almost all modern American drama is measured.
Arthur Miller wrote plays, screenplays, novels, short stories, non-fiction and an autobiography, but he is probably best remembered for his play Death of a Salesman, winner of the New York Drama Critics Circle Award, three Tony Awards and the Pulitzer Prize for Literature. It was the first play ever to win all three.

Miller based his works on American history and his own life as well as his observations of (largely) contemporary American culture. He fashioned universal stories about an individual's struggle with his society, his family, and above all, himself. Miller's characters are plagued by anxiety, depression, and guilt; all trials to which almost everyone can relate. He created works that were familiar, identifiable and remarkable for their power to move an audience.

In 1947 All My Sons, directed by Elia Kazan, became a massive hit on Broadway, running for 328 performances. Both Miller and Kazan received Tony Awards, and Miller won the New York Drama Critics Circle Award. It was just a hint of the acclaim that was to follow, in 1949, with Death of A Salesman.
Due to the overwhelming response from both critics and audiences, for the first time in Matrix Theatre Company's illustrious 30-year history, they are bringing this production back to their stage. The entire critically-acclaimed cast will return for the run of only fifteen performances, from February 17 – March 18, 2012.
Set just following the end of the Second World War, All My Sons opens on the morning after a portentous and tempestuous storm that has brought down an apple tree.
That morning, while the Keller family enjoys their breakfast out in the yard, we learn the tree has a special significance; it was planted in remembrance of Larry, Joe (Alex Morris) and Kate (Ann Gee Byrd) Keller's eldest son, a fighter pilot lost during the War and presumed dead. Their other son Chris (A. K. Murtadha), who also served in the war, feels that it is wrong to keep up the pretense that his brother may still return, which is the hope that his mother refuses to surrender. Chris confides to his father that he wishes to marry their former neighbor Ann (Linda Park), who was Larry's girlfriend before he served in World War II. By marrying Ann, Chris is effectively pronouncing Larry dead. Although the men put off telling her, Kate has an inkling of why Ann has traveled from New York to visit.
As the play progresses, dark family secrets are finally brought into the open with devastating results.
As the mother Kate, Ann Gee Byrd injects her performance with a leaden sense of fresh grief. Even after three years, the loss of her first-born is still so present and we see she is incapable of admitting he might really be dead. Her performance is magnificently horrific, especially the brutality of her mindset. The lengths she will go to maintain a delusion and deny her remaining son's happiness is staggering.
Alex Morris is good as Joe Keller, an old-fashioned patriarch and self-made industrialist whose factory and fortune has prospered thanks to military contracts. Prone to ranting when he feels cornered, Morris brings a blustering ferocity to his fine performance. Morris draws from the genius of Miller's writing to portray his pain and sorrow so realistically that many in the audience were moved to tears.
Taylor Nicols does well as Jim, the neighborhood Doctor. His is an interesting and important character, providing a jaded and disillusioned foil for the idealism and youth of Chris, who suffers from survivor's guilt.
Under Cameron Watson's direction, performances are fine across the board. The much-talked about cross-cultural casting of black, Asian, Latino and white actors for the various families does not add anything to Miller's already brilliant play.
A richly complex drama, All My Sons resonates as a scathing indictment of greed and corruption and all who profit from war.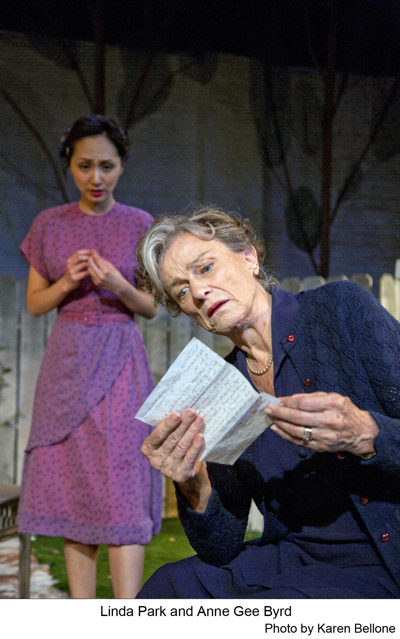 All My Sons
Matrix Theatre
7657 Melrose Ave.
Los Angeles, CA 90046
Performances:
Runs until March 18, 2012

Fri & Sat @ 8pm,
Sun @ 2pm
Running time:
Approximately 2 & 20 mins, including a 15-minute intermission
TICKETS:
$25.00;
$20.00 for Senior Discount (use Promo Code 205)
Box Office:
Purchase tickets here or call 323-852-1445