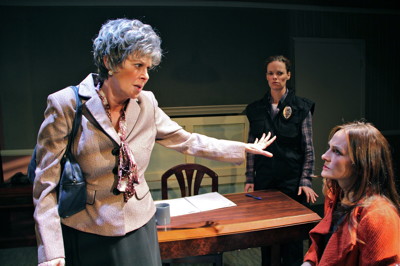 In its West Coast Premiere at the Odyssey Theatre, Chicago playwright Joel Drake Johnson's one-act drama mines the prickly and uncomfortable terrain of a mother and daughter relationship exacerbated by a family crisis.
A grieving mother Fay (JoBeth Williams) checks into a motel room with her distant daughter Rachel (Deborah Puette) in a small American town. They've journeyed here to deal with their son/brother's suicide. (Ian Littleworth also appears as the troubled brother.)
We see the (adult) daughter is somewhat alarmed at the prospect of sharing the sole (king sized) bed with her mother, and who wouldn't be?  She's not a little kid any more… We also see the daughter quietly tolerating her mother's jittery, garrulous ramblings, and again, surely many can identify with that dynamic.
Eventually it is revealed that the pair is clearly estranged. Evidently the mother hasn't seen her grandson for years, much less even seen a recent picture of the little tyke. Why? And why is Rachel so quick to share these photos of her little one with the empathetic police officer handling the case (played by Ann Noble) yet persists in excluding her mother? Of course the reason is revealed by the play's conclusion.
Boasting three meaty and emotional roles for three fine female actors, Joel Drake Johnson's play nevertheless disappoints in its unconvincing plot turns. That is to say, the plot turns aren't unconvincing – they way they are handled is. Robin Larsen does a fantastic job with the staging and direction of her cast, but the play itself is flawed.
JoBeth Williams gives an excellent performance as the mother. In her mid-western 'Mom' attire and frumpy wig streaked with silver, she hints at the disappointments of late-middle age and seems fairly practiced at turning the screws of emotional blackmail.  It's astounding to see her unravel when left alone in a room.  Deborah Puette walks a fine line with her character, revealing little and never tipping into petulant hostility while maintaining her distance. This is a woman who has learned to keep her cards close to her chest… The always superb Ann Noble gives an interpretation of a small-town cop who, perforce, crosses the line from 'cop' to sympathetic neighbor when required without sacrificing her professionalism.
Tom Buderwitz has designed a superb set that transforms with ease from a bland motel room to a police station interview room and back again.
Emotionally labyrinthine, The Fall to Earth may not be a perfect play, but the fine performances from all may make up for any perceived deficiencies.
Photo credit: David Colclasure.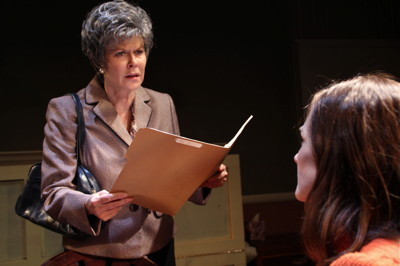 The Fall to Earth
Odyssey Theatre
2055 South Sepulveda Boulevard
Los Angeles, CA 90025-5621
(One block north of Olympic Blvd.)
Performances:
Runs until Sunday, April 1, 2012 at 2:00 p.m.
Wednesday through Saturday at 8:00 p.m.;
Sundays at 2:00 p.m. (except Sunday Feb. 12 and Mar. 18 at 7:00 p.m. only);
(*Wednesday performances on Feb. 29 and Mar. 14 & 28 only;
Thurs. Performances on Feb. 16 & 23 and Mar. 8 & 22.
No performances March 9 through March 11.
Running time:
Approximately 90 minutes, no intermission
TICKETS:
Wednesday through Friday: $25.00;
Saturday & Sunday: $30.00;
Student & Senior tickets: $5.00 off except on Saturday night.
Student/SAG/EQUITY/AFTRA tickets with I.D.: $15.00 on Friday.
 "Pay-what-you-can" (min. $10.00) on Feb 8 and Mar. 4.
*** Post-show discussion at every Thursday performance ***
Box Office:
For reservations call (310) 477-2055 or go here.