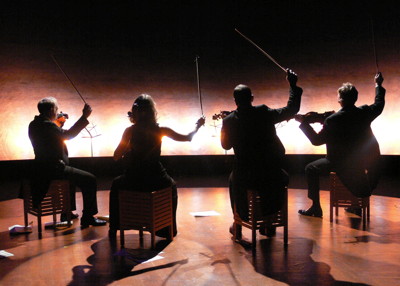 Gentle readers!
This week's theatre review for the LA Weekly is for Damian Lanigan's play Dissonance, now playing at the Falcon Theatre in Toluca Lake.
Click here and then scroll down a little bit to read it.
~ OR ~
You can just read it here!!
Enjoy!
While providing a rare and interesting glimpse of the behind-the-scenes squabbles and power struggles of a quartet of classical musicians, regrettably Damian Lanigan's drama Dissonance relies too heavily on cliché, in both character and story.
There's the supercilious British quartet leader and first violin James (Daniel Gerroll) who is constantly being challenged by his second violin, a smiling young American upstart Hal (Peter Larney). Attractive cellist Beth (Elizabeth Schmidt) is desired by both men, while browbeaten viola player Paul (Skip Pipo) meekly tolerates James' abuse and mercilessly cruel jokes.
When Beth starts tutoring a rich rock star, Jonny (Jeffrey Cannata), tensions tied to an important concert mount.
Crispin Whittell's staging fluidly shifts from the rehearsal room to the rocker's pad and back, but the director fails to orchestrate a uniform acting level from his troupe; sometimes emotion is mistaken for loud volume. Glaringly absent is a scene where Beth explains her expensive new cello to her colleagues.
Dissonance
Now playing Wednesdays-Saturdays, 8 p.m.; Sundays, 4 p.m.
Continues through March 4, 2012.
4252 Riverside Drive,
Toluca Lake
818-955-8101