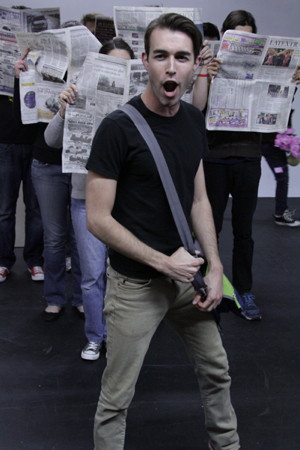 Dear Readers,
Below is a link to my in-depth article on the genesis of a fun spoof musical, The Spidey Project, including interviews with the show's creator Justin Moran as well as the director of the Theatre Unleashed production, David Chrzanowski.
Go here to read it.
Enjoy!
Production info:
The Spidey Project: With Great Power Comes Great Responsibility
Produced by Theatre Unleashed
Studio / Stage
520 N. Western Ave.
Los Angeles, CA 90004
DATES AND TIMES:
March 8-April 14, 2012

Thursdays, Fridays and Saturdays,
8 p.m.
Special Sunday performances March 11, 18, 25 and April 1 — 7:30 p.m.
TICKET PRICES:
$20 for general admission at the door
$16 if ordered online
*** PAY WHAT YOU WANT when patron brings a new book to donate ***
Tickets also available at Goldstar and L.A. Stage Alliance
INFORMATION & RESERVATIONS:
For further information, please call: (818) 849-4039
Or check out their website here.