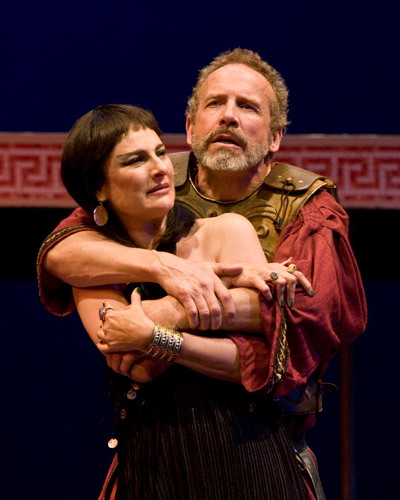 Dear readers!
This week's theatre review for the LA Weekly is for Shakespeare's classic romantic tragedy Antony and Cleopatra, now playing at the A Noise Within's glamorous new theater in Pasadena.
Click here and then scroll down a little bit to read it.
~ OR ~
You can just read it here!!
Enjoy!
Antony and Cleopatra
Fast-paced and chaotic, A Noise Within's production of Shakespeare's romantic tragedy plays up the comedy and bacchanalian passions of its mature leading pair of star-crossed lovers at the expense of its dramatic civil war plot line.
Flanked by handmaidens in jingly harem-wear and clad in gorgeous, flowing ombre silk gowns plus wigged with a mess of curls, Susan Angelo's Cleopatra is feisty and capricious, voracious and high-maintenance. Yet even when she later switches to the familiar blunt-fringed bob wig and sleeker dress (incongruously teamed with capri leggings), Angelo fails to command the stage with the regality expected of the Queen of the Nile.
A vivid recounting of Cleo's opulent and entourage-laden floating barge only demonstrates the gulf between the stage embodiment and the myth of the royal personage that captivated the imagination of so many poets and warlords.
Providing a backdrop to the romance is the intrigues of war involving the Roman Empire, while triumvirate member Antony's loyalties are split between his Egyptian mistress and his country. Playing Antony, Geoff Elliott shares directing duties with his wife and company co-artistic director Julia Rodriguez-Elliott. Designer Tom Buderwitz' glowing oblong pond downstage center, faux-marble tiled floor and bi-level scaffolding set permits some interesting staging options, including thrilling entrances via ropes from the ceiling catwalk. Battles and swordplay are well choreographed by Ken Merckx, but poorly executed by a timid ensemble of centurions.
Laura Karpman's gorgeous, ethnic-flavored score features plaintive duduk melodies and beautifully drives the action with its pounding rhythms. Max Rosenak shines as Octavius Caesar, thanks to his quiet but commanding presence.
Antony and Cleopatra
3352 E. Foothill Blvd.,
Pasadena, 626-356-3100
Performances:
Sat., March 3, 2 p.m.;
Thu., March 22, 8 p.m.;
Fri., March 23, 8 p.m.;
Fri., April 13, 8 p.m.;
Sat., April 21, 2 & 8 p.m.;
Sun., April 29, 2 & 7 p.m.;
Fri., May 4, 8 p.m.;
Sat., May 12, 8 p.m.;
Sun., May 13, 2 p.m.