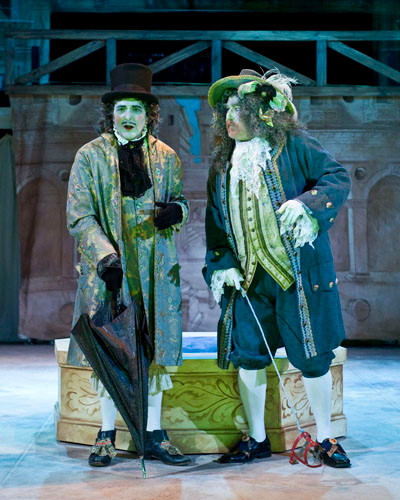 My theater review for the LA Weekly this week has been dubbed the 'Pick of the Week.'
Read all about The Bungler, the hilarious farce by 17th century French playwright Molière, which is now playing in repertory with Shakespeare's Antony and Cleopatra and Pierre Corneille's marvelous play The Illusion at A Noise Within, in Pasadena.
Click here to see the shout-out the LA Weekly gave me for my review, and then click on the "more" button to read my review.
~ OR ~
You can just read it here!!
Happy reading!
The Bungler
Employing playful and inventive staging, director Julia Rodriguez-Elliott maximizes the Italian Commedia dell'arte roots of 17th century French playwright Molière's zany farce.
Exposing the acting troupe's dressing rooms upstage, concealing certain incidental characters with masks and enlisting attention-seeking lighting effects (courtesy of designer Ken Booth) all adds to the madcap fun.
Richard Wilbur's superb translation of Molière's obscure comedy, circa 1655, slightly updates the language while preserving the rhyming couplet verse and witty wordplay.
In the dazzlingly convoluted scenario, a wily manservant Mascarille (JD Cullum) concocts numerous elaborate schemes to assist his dimwitted master Lelie (Michael A. Newcomer) win the girl of his dreams, Célie (Emily Kosloski), away from the wealthy old gentleman to whom she is promised. But the ingenuous Lelie has a gift for interfering, continually undoing all of Mascarille's best-laid plans, much to the latter's hair-tearing frustration. Mascarille's unscrupulous talents include deft pickpocketing and elaborate improvised lies, while his ruses include a feigned funeral and hilariously adopting the disguise of a Swiss boarding house landlord.
Rodriguez-Elliott sprinkles the play with original musical interludes (also sound design, all composed by David O) and makes good use of a roving tuba-player (Kabin Thomas) who amusingly punctuates various comedic moments.
There's a lot going on throughout, but The Bungler is a fun-filled romp guaranteed to give you hysterics.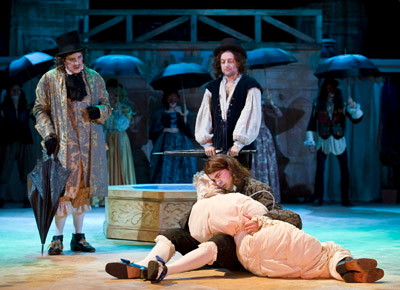 The Bungler
Sat., April 7, 8 p.m.;
Sun., April 22, 2 & 7 p.m.;
Sat., May 5, 2 & 8 p.m.;
Thu., May 10, 8 p.m.; Fri.,
May 11, 8 p.m.; Fri.,
May 18, 8 p.m.; Sun.,
May 20, 2 p.m.; Sat.,
May 26, 8 p.m.; Sun.,
May 27, 2 p.m.
3352 E. Foothill Blvd.,
Pasadena,
626-356-3100