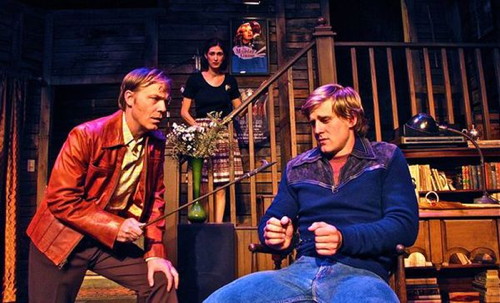 When was the last time you heard a theater audience scream in fright?! Okay, this critic merely jumped out of her seat, but there was a lot of shrieking going on in this intimate (50-seat) black box theatre the other night. That's because we were all enjoying the delicious thrills and laughs of Ira Levin's classic comedy-chiller, Deathtrap, now playing at the Davidson/Valentini Theatre in Hollywood for its first LA staging in twenty years.
Sure, the play's seventies setting and references feel a little dated, but Joel Daavid's elaborately detailed and two-level cabin set more than makes up for the musty retro flavor. Adorning the walls of the colonial-style, rustic home are numerous weapons, including a crossbow, guns, handcuffs, swords and knives – a veritable 'deathtrap'!
Anyway, the storyline is what matters.
Renowned playwright Sidney Bruhl (Brian Foyster – adopting a decent low-class British accent) hasn't had a hit in years. Starved of good ideas and suffering from his fourth Broadway flop in a row, Sidney retreats to his well-appointed Long Island home and his sympathetic but ailing wife, Myra (Cynthia Gravinese, fragile and sympathetic). Sidney is anxious for success and the couple is starting to feel the limit of Myra's fortune, and so he outlines a scheme. He has received a manuscript written by one of his students that he considers an almost perfect thriller. A promising writer named Clifford Anderson recently attended one of Sidney's writing workshops and has written to him seeking the master's input on his original play 'Deathtrap.' Myra's is horrified by her husband's half-jokey suggestion that he eliminate Clifford and produce the play as his own. She counters that he could assist Clifford in developing his play and share the credit. Sidney invites Clifford (Burt Grinstead – a ripped, blond Adonis who provides plenty of eye candy) to their secluded, woodsy cabin to discuss the proposal. Meanwhile, an intrusive 'psychic' Helga Ten Dorp (Elizabeth Herron – a hilarious performance despite a wandering 'Dutch' accent) keeps dropping by inopportunely, declaiming her predictions. What unfolds is spooky, sexy, hilarious and dramatic.  Deathtrap has it all!
Apart from being a marvelous title for a mystery drama, a deathtrap is a literary and dramatic plot device in which a villain, who has captured the hero or another sympathetic character, attempts to use an elaborate and usually sadistic method of murdering him/her. Think of numerous scenes in a James Bond movie ("Do you expect me to talk?" Goldfinger – "No, Mr. Bond. I expect you to die!")
The late Ira Levin's ability to construct an ingenious plot and engineer a series of twists demonstrates he was one of the best mystery writers in the business. Levin was an American author, dramatist and – surprisingly – also a songwriter (he wrote the lyrics and book to a 1965 musical Drat! The Cat!)
Levin is perhaps best known for his disturbing and popular novels, which include the creepy sci-fi drama The Stepford Wives (1972), the satanic psychological thriller Rosemary's Baby (1967) and the post-war Nazi drama The Boys from Brazil (1976) – all of which were turned into memorable movies.
His plays include the chilling Veronica's Room (1974) but Levin's most famous play is decidedly Deathtrap (1978), which was nominated for a Tony Award for Best Play and earned the author his second Edgar Award (for mystery writing). Deathtrap also holds the record for being the longest running comedy thriller in Broadway's history; it ran for four years with over 1800 performances.
It's easy to see why. Deathtrap is a hugely entertaining mystery thriller that employs all the basic components of thrillers and horror tales, including murder plots, deception, innocent dialogue with sinister subtext, plot reversals and unexpected turns of events and so on, with all these elements twisted and rearranged over and over.
This technique actually contributes to a fair bit of repetition in the plot and dialogue, unfortunately, but you will definitely enjoy the ride.
Despite Ken Sawyer's expert direction, the acting styles of the five actors vary wildly, with Burt Grinstead giving the most naturalistic and convincing performance of them all. Carl J. Johnson and Stephen Mendillo alternate as Sidney's astute lawyer, Porter.
Don't miss this play!
Photo credit: Ken Sawyer.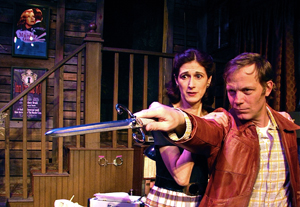 Deathtrap
At the L.A. Gay & Lesbian Center's Lily Tomlin/Jane Wagner Cultural Arts Center
Inside The Village at Ed Gould Plaza
1125 N. McCadden Place
Hollywood CA
(one block east of Highland, just north of Santa Monica Blvd.)
Free parking available in nearby lots.
Performances:
Runs until May 6, 2012
Fridays & Saturdays at 8 p.m;
Sundays at 7 p.m.
Running time:
Approximately 2 hours, and 15 minutes, including a 15-minute intermission.
TICKETS:
Fridays & Saturdays: $25.00
Sundays: $20.00
Box Office:
Purchase tickets here or call 323-860-7300.
About the L.A. Gay & Lesbian Center:
The L.A. Gay & Lesbian Center provides a broad array of services for the gay, lesbian, bisexual and transgender community, welcoming nearly a quarter-million client visits from ethnically diverse youth and adults each year.

Through its Jeffrey Goodman Special Care Clinic and on-site pharmacy, the Center offers free and low-cost health, mental health, HIV/AIDS medical care and HIV/STD testing and prevention.

The Center also offers legal, social, cultural and educational services, with unique programs for seniors, families and youth, including a 24-bed transitional living program for homeless youth. Information about the Gay & Lesbian Center is available here.