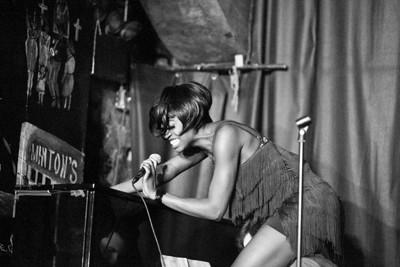 This is certainly not Los Angeles' first encounter with one of its hardest working actors, and most definitely not the last, if all goes according to what is right in the performance world.
She can sing!  She can dance!  Wait a minute – she's incredible.  A side-splitting encounter with Cal Arts grad Ayana Hampton proves once and again that hot girls are hilarious.
The Morning After Show, which takes place at the ever-so-awesome Bootleg Theater space in Los Angeles, is a complex and candid cabaret that examines feminism, being a black artist in show business and other beautiful, brutally honest and hysterical topics all explored through eight original songs. (Lyrics by Ayana, music by Ayana, Brian Barrale and Mark Mendelson.)
Miss Hampton, along with her groovy live band, creates a tongue in cheek cabaret that somehow takes parody and makes it sincere.  She is a sexy siren, here to tell her tale in a thoroughly enjoyable romp.
Don't miss this show!  It's good; I'm talking Bette Midler good.  Short, sweet and to the point, I haven't enjoyed myself at the theater that much in a long time.
There are only TWO remaining performances – tonight and tomorrow eve.

A comedic desperate pursuit of many men told through a witty collage of stand-up, vaudevillian schtick, and disco infused one-woman cabaret. Does she find the man of her dreams or does the dream get to her first?

Most recently Miss Hampton produced "The Morning After Show" for a 6-show engagement in NYC at The Nuyorican Poets Cafe. "The Morning After Show" was developed at REDCAT (NOW Festival), presented by POOR DOG GROUP, and is supported by Franklin Furnace Fund and United States Artists.  This LA production is co-produced by Circa83 Productions and Bootleg Theater.
For more info on Ayana Hampton, visit her official site.
Production photo credit: James Daniel.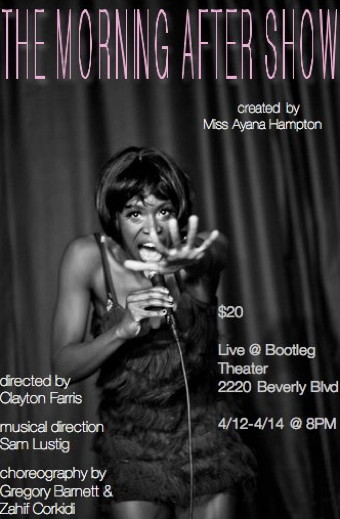 The Morning After Show
2250 Beverly Blvd.,
Los Angeles CA 90057
Performances:
Plays tonight – April 13th  – and
Saturday April 14, 2012
8pm start.
(Only TWO remaining performances, so hurry!)
Running time: 
Approximately 45 minutes.
TICKETS:
$20.00
Box Office:
Purchase tickets here, or at the door.
For more info call (213) 389-3856