Poetic, impressionistic and occasionally melancholy and whimsical, the elegant staging of legendary actor/dancer Mikhail Baryshnikov's new show, In Paris, is breathtaking. In Paris is only playing for one more week at The Broad Stage in Santa Monica.
A lone figure in a dark trench coat is standing on the dimly lit and highly raked stage. It's Baryshnikov and his presence hushes the audience before the house lights go down. Meanwhile, way down below the edge of the stage, a woman in a flowered hat begins to move a large, blown-up postcard from one end of the "orchestra pit" to the other. As she hauls it onto the stage, three black balloons float skywards to the sound of birds chirping. She hauntingly begins to sing a Russian folksong as a procession of immigrants emerges from upstage with their boxes of belongings…
Employing wistful physicality, trompe l'oeil trickery, whimsical staging, puppetry, acrobatics, silent film projection, dramatic lighting (designed by Damir Ismagilov), comedy, opera sung a cappella, monologue and exchanges of dialogue in French and Russian (with the English translation writ large and projected across the performers, black floor and upstage wall) an impression is created of the crushing solitude a foreigner experiences in a strange city.
In Paris is a simple story about a White Army general (Baryshnikov), a Russian ex-pat who is living in Paris where he meets Olga, an attractive young waitress working in a Russian deli (played elegantly by Anna Sinyakina). Together the two lonely souls embark upon a bittersweet love affair.
This production is the U.S. premiere of In Paris, an adaptation of a short story by Ivan Bunin, the first Russian to win a Nobel Prize for Literature in 1933. Bunin lived in exile in France after the Russian Civil War (1918-1920) and died in Paris in 1953, never having had the opportunity to return to his motherland.
Elegantly directed by Dmitry Krymov, and employing an almost exclusive palette of black, white and grey hues, this poignant show brings the former ballet legend (now 64 years old) Mikhail Baryshnikov, beautiful actress Anna Sinyakina, and the acclaimed ensemble of the Dmitry Krymov Laboratory to the intimacy of The Broad Stage.
Tickets are pricey, but this show is definitely worth seeing.
Photos by Angela Weiss/WireImage.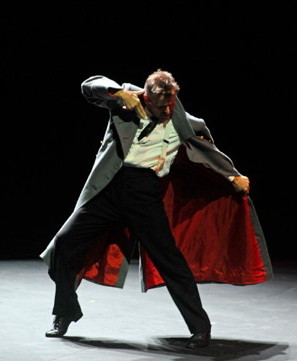 In Paris
1310 11th Street,
Santa Monica, CA 90401
Performance Dates and Times:
Runs until Saturday April 21, 2012
Mon—Sat
7:30 PM
Saturdays & Sunday April 15
2PM
Running time:
Approximately 1 hour and 20 minutes, no intermission.
*** No late admission ***

TICKETS:
$65—135.00
Box Office:
Purchase tickets here or call (310) 434-3200
http://thebroadstage.com/inparis
On site parking is FREE.
About The Broad Stage:

Under the leadership of Director Dale Franzen and Artistic Chair Dustin Hoffman, The Eli and Edythe Broad Stage at the Santa Monica College Performing Arts Center opened its doors in Santa Monica in October 2008.

Inspired by Italian 'horseshoe' theaters, yet conceived in an absolutely contemporary vernacular, The Broad Stage is an artist's dream and an audience's delight. Unlike any performance space in the country, it is sublimely intimate with 499-seats and strikingly grand at the same time – allowing eye contact with artists from the boxes to the back row -forging a new kind of artist and audience experience in Los Angeles. Theater, dance, film, jazz, operas, musicals, symphony, chamber orchestras and world music are presented on one of the city's largest proscenium stages. The space was conceived as a global theater and community hub and was designed without compromise to embrace the artistic process from inspiration to opening night.

In addition to The Broad Stage, The Edye Second Space, a smaller black box theater, presents new, developing and innovative work in theater, music and dance as part of the Under the Radar Series. Featuring younger, innovative artists and chamber pieces and plays, programming at The Edye is intentionally spontaneous, reflecting the dynamic nature of the space and allowing the latest, most exciting artists to be booked on short notice.

The Broad Stage ARTS INSIGHTS education and outreach program offers opportunities for cultural exposure through six initiatives. These include Student Matinees, In-School Workshops, Master Classes, Open Rehearsals, Family and Community Events, and Conversation Pieces. ARTS INSIGHTS currently reaches 12,000 students and diverse community members annually through over 30 free and low-cost events.