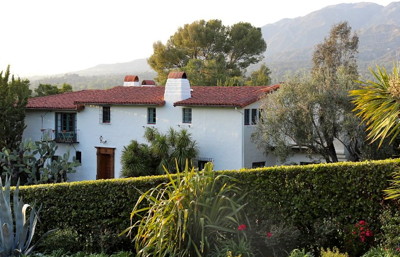 Exquisite detail and luxe touches – this year the legions of designers have truly outdone themselves. For several months numerous teams of dedicated interior designers, as well as countless workers and volunteers, have been enthusiastically laboring to transform and restore a magnificent estate to its former glory with a gorgeous and modern makeover.
The result is breathtakingly spectacular.
Finally, the 2012 Pasadena Showcase House of Design will be open to the public, from this Sunday through Sunday, May 13, 2012 (from Tax Day to Mother's Day).
*** See visiting information section below for special parking instruction for opening day visitors ***
Selected for the 2012 Pasadena Showcase House of Design is a magnificent 1927 Spanish Colonial Revival estate, originally designed by architect John Winford Byers.
The estate is known as 'Casa de las Puertas' or 'House of Doors' because of the many splendid, ornately carved wooden doors, along with custom leather-tufted and metal clad interior doors.  "While it's a Showcase tradition to remove the interior doors to allow for more design space and room for guests, this Showcase will retain some of the unique doors for the tour," says Interior Co-Chair Karol Franks.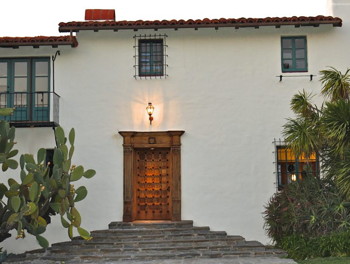 "This really is a family home," added Franks. Thanks to all the additions, the estate can now comfortably house twenty guests.
When visitors explore this year's Showcase House, resting in the heart of La Canada Flintridge, California, they will enjoy a stunning domain transformed by 31 designers from Southern California, comprised of 25 interior designers and 6 exterior designers.
I spoke with a handful of the interior designers to understand how their complex and artistic decisions were made.  There's so much to cover – you will simply have to visit to see it all – so here follows a glimpse behind the scenes of this year's gorgeous Showcase House.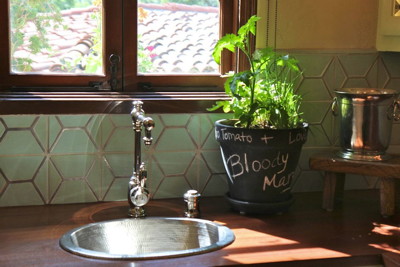 Designer Greg Parker, South Pasadena – Breakfast Room/Kitchen/Butler's Pantry/Pantry.
Greg Parker, from Parker West Interiors, explains that the kitchen and breakfast room was originally an outdoor space, until a remodel in the 1970s. For the Showcase remodel, the entryway to the kitchen was widened and corbel detail added to the ceiling. Parker says he strove to create a "more contemporary usage for the kitchen." The parquet wooden floor of the breakfast room was over-stenciled to make it look "less busy."
Because a formal dining room exists elsewhere in the home, Parker placed two square dining tables next to each other to encourage a more intimate dining experience for the small family in residence. In fact, Parker took input from the family on color and material choices, as well as treatment ideas, to shape his design. "They wanted a lot of color," he confides, adding he made sure to tie the kitchen in with the entryway. Fabric covered padded stools were added to a new kitchen island. Parker's most dramatic flourish is the installation of a stunning, hand-built, French La Cornue range, gleaming with a Portuguese blue front. Says Parker, "It's a work of art and also a supreme cooking machine. You too can be Julia Child!" A special surprise for the family is a decorative mural on back splash above the range. Parker had a black and white photo of the home transferred onto six marble tiles.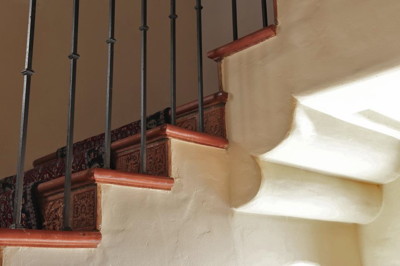 Off the kitchen is a capacious pantry, that you pass through to get to the "Butler's Pantry" – an intimate, sunny mini kitchen space, finished with the same exquisite detail.
Designer David Reaume, Pasadena – Hallway/Executive Bathroom/Card Room
David Reaume, from David Reaume Construction & Design, added cabinetry, including a cigar humidor and chilled wine storage, to match the original doors and mahogany counters, plus a German silver sink. While the original octagon-shaped terracotta tile floor remained, the wood floors were redone with old and new wood.
Reaume describes the Card Room as a "destination room, designed to invite long hours of comfortable entertaining and relaxing.  State of the art wine and cigar storage at the ready and warm comfortable elegant furnishings will keep guests playing cards all night."
Designer Paul Devine, Pasadena – Traveler's Room/Hallway and Staircase
Paul Devine, from Interior Devine, employed a nautical theme and used hand-painted faux trompe l'oeil design to give the impression of wood carving detail on the doors.
Devine notes that the Sleeping Porch "…with its three Murphy beds, each decorated with ships, was used to house spill-over guests, so the idea of travel and the high seas will be used as a theme…artwork will be hung from custom art rails…and includes original Captain Cook sailing charts, nautical views, star maps and sea monsters, ranging in date from the 17th century to contemporary works."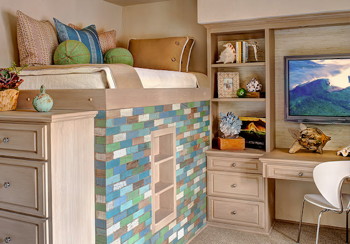 Designer Debra Lynn Henno, Solvang – Boy's Bedroom
Debra Lynn Henno, from DLH Design, turned the boy's bedroom into a 'beach cabana,' employing beach-inspired playful touches such as a "sand-like" carpet and a rug that suggests "beach foam." Henno emphasised teal and blue tones for the color palette, which was drawn from the unique Bali Boat Wood, hand painted in Indonesia, available from Indo Teak Designs.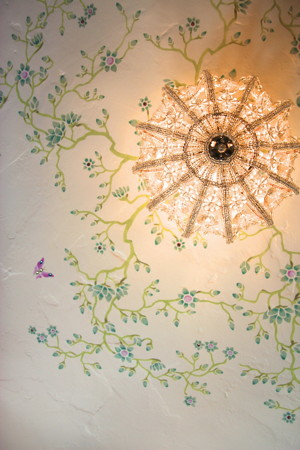 Designer Maya Williams, Woodland Hills – Girl's Bedroom
New to the Showcase is Maya Williams, from Maya Williams Design, who was tasked with making the smallest room in the house cozy and livable. Her first decision was to remove the two twin beds dominating the room and set a twin bed against the window to create more "hang out space."
Williams says she wanted to create a young girl's room that was "relaxing and fun" and would make the occupant "happy, confident and want to stay home or hang out with her friends." As the intimate room is at the back of the home and faces out to the pool area, Williams took her inspiration from the pool's peacock tile mosaic, adding butterflies, birds and subtle feminine details to the room's décor that were "not too girly." Custom bedding, draperies and fabric treatments on the pillows and chair all add to the peacock-inspired design theme of turquoise, lilac and pale green. A hand-painted ceiling design by Jeff Rohm with crystal detail, reproduction Venetian mirrors and custom sconces of real turquoise, jade and Swarovski crystals all add to the deluxe yet comfortable room.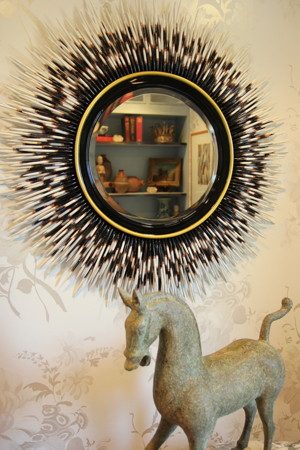 Designer Kristi Nelson, Los Angeles – Lady's Office
Kristi Nelson, of KMNelson Design, LLC decided her occupant was a "well-travelled, cosmopolitan woman, who understands art and fashion," and added feminine and global touches to the petite study. Nelson says she wanted to create an "edgy and current retreat for the lady of the house. Somewhere she could call 'her space.'" Furniture includes an upholstered St. Simone silhouette chair and a round marble-topped table. Luxe and dramatically graphic details such as the haute couture fashion designer Christian Lacroix's fabric on the pin board, metallic paper on the ceiling with a subtle 'stingray' pattern and a stunning round mirror trimmed with reclaimed porcupine quills all contribute to the global theme, as does a vintage zebra hide (the latter two items are on loan from the designer). The animal theme is echoed in the python print fabric on the throw pillows, the zebra-striped velvet on the ottoman and the snakeskin print on the couch bolster. The window treatments are striped silks of silver, grey and pale light blue.
Smiles Nelson, "This room now feels so much brighter, airy, soft and feminine, without being sweet."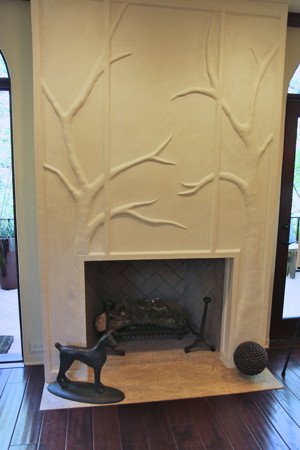 Designer Cynthia Bennett, South Pasadena – Writer's / Artist's Retreat
Designer Cynthia Bennett, of Cynthia Bennett & Associates, Inc, took on a space with bare walls, open beams and an incomplete fireplace. Says Interior Co-Chair Karol Franks, "It was basically a garage." The beautifully appointed room looks out to the back garden through two large doors, and is now inviting with its two swivel arm chairs and lounge at window. Matt Sullivan added a plaster relief of tree branches above the large fireplace. A hefty work desk made from a polished slice from a huge redwood tree adds to the rustic retreat flavor. There's even a practical little kitchenette with a small sink, an espresso machine and a small microwave oven. In the small powder room Bennett added 'inspirational quotes' wallpaper.
Bennett describes the Writer's Retreat as "…a true getaway from the rest of the house, a serene space. One Wall features an electronic 'inspiration wall' which displays multiple images on a large screen…two chairs by the fireplace create a cozy sitting area."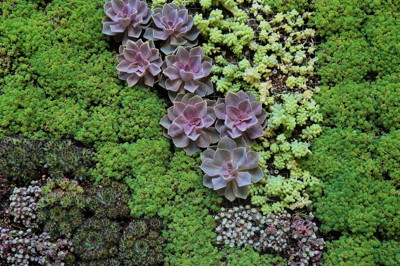 As designers Cassy Aoyagi and Kirk Aoyagi, Tujunga, describe it, "The Andalusian Courtyard is a destination with Old World charm, offering a multitude of experiences for guests and residents to seamlessly connect the indoors and outdoors…it also features a dramatic backdrop of the Angeles Forest, and architectural features such as the fountain, tile bench and pizza oven." The garden adjoining the Andalusian Courtyard was designed by FormLA Landscaping.
As designer Laramee Haynes notes, "The beautiful existing Greenhouse will be furnished with displays to show visitors how to grow their own plants from cuttings, divisions, seeds and grafts. A short video will demonstrate plant propagation. Live demonstrations will also be periodically offered during the tour."
 Background:

This year, as in the past, over 30,000 guests are expected to visit Showcase House, the Restaurant at Showcase and the Shops at Showcase.

This year's Showcase home is a magnificent 1927 Spanish Colonial Revival estate, known as 'Casa de las Puertas' or 'House of Doors.' It was conceived by noted architect John Winford Byers, a serious self-trained architect who was fascinated with native California architecture and its Mexican and Spanish roots.  Many of his houses attracted the attention of critics and were regularly featured in such publications as Architectural Digest.  As his fame spread, Byers attracted such celebrity clients as Shirley Temple, Norma Shearer, Joel McCrea and J. Paul Getty.

The house was built as the winter home for Hunter Savidge Robbins, his wife Margaret K. Robbins and their four children.  There have been two additional owners of the estate, plus the current owners, who purchased the property in 1996.

In 1927, The Los Angeles Times announced the construction of the Robbins house as "a beautiful Spanish home," a "sixteen-room villa…which will grace a site of approximately two acres."
A whimsical tribute to Pop Artist Andy Warhol, pictured here, can be seen in the Casita, courtesy of Mark Cutler Design.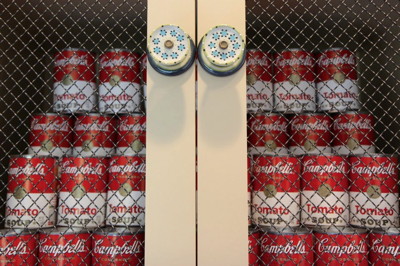 Full list of designers, by region:
Pasadena
David Reaume, David Reaume Construction & Design for Hallway/Executive Bathroom/Card Room
Debra Rabb, Debra Rabb Landscape Architecture, Exterior Advisor
Laramee Haynes, Haynes Landscape Design for Greenhouse
Albert Janz and Sherry Stein, Henry Johnstone & Co. for Living Room
Paul Devine, Interior Devine for Traveler's Room/Hallway and Staircase
Mario Saverino and Kenn Myers, MK & Company, Interior Advisors
Walter Hubert, Silver Birches for Restaurant
South Pasadena
Cynthia Bennett, Cynthia Bennett & Associates, Inc., for Writer's / Artist's Retreat
Gregory Parker, Parker West Interiors for Kitchen/Butler's Pantry/Pantry/Breakfast Room
San Gabriel Valley
Alhambra: Phillip W. Cohen, Studio of Phillip W. Cohen, for Telephone Room
La Canada:  Traci Larsen, Traci Larsen Interiors for Reading Room
Burbank / Glendale / Tujunga / Sun Valley
Burbank: Joshua Cain, Saxony Design Build for Guest Suite/Laundry Room/Bath/Library/ Family Office
Chino: Phill Vonk, D Christjan Fine Cabinetry Design & Mfg. for Family Library
Glendale: Melissa Carson and Barry Magness, Carson-Magness Landscapes, Inc., for Pool and BBQ / Pool Dressing Area and Shower
Sun Valley: Terry Morrill, California Waterscapes Inc. for Waterfall
Sun Valley:  Jaime Dietenhofer, Garage Envy, Inc.  for Connoisseur Ca
Sun Valley: Jaime Dietenhofer and Erna Miranda, Storage Envy for Master His/Hers Closet
Tujunga:  Cassy and Kirk Aoyagi, FORM LA Landscaping Inc., for Andalusian Courtyard
Los Angeles
Kristi Nelson, KMNelson Design, LLC for Lady's Office
Stephanie Leese and Jason Lai, L2 Interiors for Breezeway
Mark Cutler, Mark Cutler Design for Casita
San Fernando Valley
Calabasas:  Christina Lauren, for Entrada/Main Staircase/Upstairs Gallery/Powder Room
Encino:  Steve Sandalis, Mystic Water Gardens for Guesthouse Pond
Studio City: Kathryne Dahlman, Kathryne Designs, Inc., for Master Suite/Sitting Room/Balcony/Master Bath
Tarzana:  John Lauterbach, Lauterbach, Inc., for Guesthouse Pond
Van Nuys:  Anne Phillips, Go Green Gardeners for Front Walkway/Rose Garden & Fountain
Woodland Hills:  Maya Williams Maya Williams Design for Girl's Bedroom
Santa Monica
Copper Gyer, Copper Gyer Design, for Guest Bedroom
Karina Oldemans, Karina Oldemans Interior Design for Dining Room
Long Beach
Kristin Pipal and Ann Kneedler, Kelly Sutherlin McLeod Architecture, Inc., for Vestibule/Balcony
Orange County / Newport Beach
Jon Jahr, Jon Jahr and Associates for Gentleman's Study
Solvang
Debra Lynn Henno, DLH Design for Boy's Bedroom
Westlake Village
Genaro Lagdemeo, Designs of the Interior for Family Room/Bath
Dunn-Edwards Paints donated paint for the house exterior and all design areas at the Showcase House.
 All photos were taken by Karol Franks.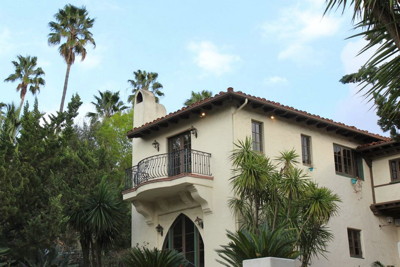 The 2012 Pasadena Showcase House of Design.
Visiting Information:
*** Special parking instruction for opening day visitors ***
The public is advised that for opening day, Sunday, April 15th and the following Saturday, April 21st, complimentary parking and shuttle service for the 2012 Pasadena Showcase House of Design will be at Parsons parking lot, located at 100 W. Walnut, Pasadena, CA 91124, at the corner of Walnut and Fair Oaks.
For all other Showcase House dates, the parking will remain at Rose Bowl Parking Lot I.
Open to the public Sunday, April 15 through Sunday, May 13, 2012, excluding Mondays.
HOURS:
Tuesdays, Saturdays and Sundays from 9:00 am to 3:45 pm
Wednesdays, Thursdays and Fridays from 9:00 a.m. to 7:45 p.m.
The Showcase is closed on Mondays.
*** Unfortunately, the Showcase property is not handicap accessible, nor a child safe venue.  Infants and children under the age of 12 will not be permitted on the premises.
Complimentary parking is available at the Pasadena Rose Bowl, Lot I.
Guests will be shuttled to the 2012 Pasadena Showcase House where they can tour the estate and its magnificent gardens, dine at The Restaurant at Showcase designed by Silver Birches and shop at the Shops at Showcase.
*** The gardens, restaurant, and shops may be visited without a ticket. ***
Additionally, the 2012 Gifts and Grants Reception honoring this year's recipients will be held in the Pasadena Showcase House Restaurant on April 17 from 10:00 a.m. to noon. The public is invited to attend without a ticket.
TICKETS:
Showcase House tickets ordered in advance are:
$35.00 for Prime Time (Weekdays from 9:00 a.m. – 1:45 p.m. and weekends from 9:00 a.m. – 3:30 p.m.)
$30.00 for Weekday Matinee (Tuesdays from 2:00 p.m. – 3:30 p.m. and Wednesdays through Fridays from 2:00 p.m. – 7:30 p.m.).
Tickets are available to purchase online through Admit One Products.
Or you can order by phone at (714) 442-3872
For recorded Showcase information, please call 626-578-8500.
You can now follow them on twitter – @ShowcaseHouse
About the Pasadena Showcase House of Design:

PSHA is an all-volunteer, non-profit organization whose members donate their time and talents to produce the annual Pasadena Showcase House of Design.  For the last 47 years, PSHA has raised funds to promote youth music education and the Los Angeles Philharmonic.  To date, PSHA has donated over $18 million in proceeds to these programs.  Funds have also provided opportunities for over 350,000 children to discover, enjoy and study classical music.  Proceeds from the 2010 Pasadena Showcase House of Design generated $750,000 which was distributed during the Gifts and Grants Reception at the 2011 Pasadena Showcase House of Design last spring.

For more information about PSHA, either becoming a member or about the Pasadena Showcase House of Design, please visit their official site or call 626-578-8500.

Mission Statement:

Thanks to a significant commitment on the part of the members of PSHA who volunteer their time, the talent and financial commitment on the part of designers and the many others who donate their time, products and money – The Pasadena Showcase House of Design is now one of the largest, most successful and oldest house and garden tours in the United States. PSHA's tradition of volunteerism has continued to make the Pasadena Showcase House such a tremendous success.

Company Overview

An all-volunteer organization, Pasadena Showcase House for the Arts (PSHA) is a non-profit California Corporation whose members donate their time and talents to produce the annual Pasadena Showcase House of Design. Founded in 1948, and formerly known as The Pasadena Junior Philharmonic Committee, they adopted the Pasadena Showcase House of Design as their annual benefit in 1965. It is one of the oldest, largest and most successful house and garden tours in the nation.