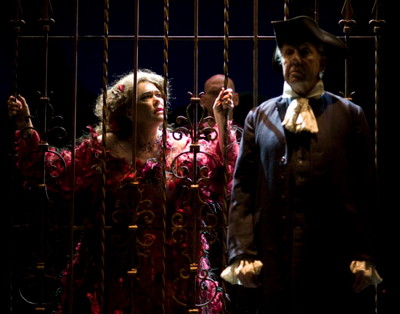 A delightfully transporting and magical fable about the illusory nature of love and relationships, The Illusion by Pierre Corneille (adapted by Tony Kushner and beautifully directed by Casey Stangl) is currently playing at A Noise Within (ANW) and runs until Saturday, May 19, 2012.
As soon as you enter ANW's beautiful new theater-in-the-round space, your attention is commanded by the lush and mossy set (designed by Keith Mitchell), suggesting a magical fairyland. This is the subterranean and cavernous lair of a powerful sorceress, Alcandre (Deborah Strang).
Incongruously clad in a tricorne hat and breeches, and timorously entering this cave, is Pridamant (Nick Ullett) who has traveled to consult with the mysterious conjurer he has been told resides here. At first he encounters a formidable creature, who magically appears with a puff of smoke – it's dramatic stuff!  But this fellow is Amanuensis (Jeff Doba), the mute assistant of the sorceress and guardian of her cave. Once Alcandre shows herself to Pridamant, she listens to his pleas for help. Pridamant is anxious to reunite with his estranged son, and so Alcandre offers to reveal his son's whereabouts. She conjures up provocative images from the young man's life that may or may not be quite what they seem…
Background:
Pierre Corneille was one of the three great seventeenth-century French dramatists, along with Molière and Racine. Corneille has been called "the founder of French tragedy" and produced plays for over forty years, from 1629—1674. (His first true tragedy Médée, was produced in 1635.)
1634 brought significant attention to Corneille when he was selected to write verses for the Cardinal Richelieu's visit to Rouen. A highly influential a French clergyman, nobleman and statesman, the Cardinal took notice of Corneille and selected him to be included in Les Cinq Auteurs ("The Five Poets"; also translated as "the society of the five authors"). The other four were Guillaume Colletet, Boisrobert, Jean Rotrou and Claude de L'Estoile, the latter being a founding member of the Académie française.
Tony Kushner (Angels in America) triumphantly revitalizes this 17th century theatrical fairy tale, first told by French classical dramatist Pierre Corneille in 1639, and the intoxicating result is poetic and profound, timely and transcendent, comic and moving, and a luminous paean to live theater.
Sprinkled with droll humor and edged with cynicism, the themes of Corneille's almost four-century-old play manage to feel fresh and contemporary. There is a hint of a sassy, modern tone to the language, as slightly updated by Kushner, but the essence and classical gravity has been preserved. The story ranges from romantically playful and silly scenes (that parody the extremes of unrequited passion) to profound and dark drama. A highlight is the scintillating showdown between Géronte (here Jeff Doba briefly sheds his Amanuensis persona to play the scathing, cold-hearted father) and his abused daughter Isabelle (Devon Sorvari).
Casey Stangl has directed her superb cast well, especially the non-verbal glances and gestures that supplement the excellent delivery of the classical text. She sprinkles in just the right amount of magical elements (such as low-tech visual effects and exciting pyrotechnics) while allowing the play and performances to shine.
The tech credits are all note-worthy, from Keith Mitchell's stunning set to the marvelous costumes by Julie Keen, all of which indicate both the play's 17th century France setting and the ethereal otherworld. In one scene a thrilling swordplay duel (expertly choreographed by Ken Merckx) has two rivals attacking each other with deadly rapiers.
The Illusion is the kind of heavenly theatrical experience that makes a critic ecstatic. 
Do not miss this play!
Photo Credit for all production images: Craig Schwartz.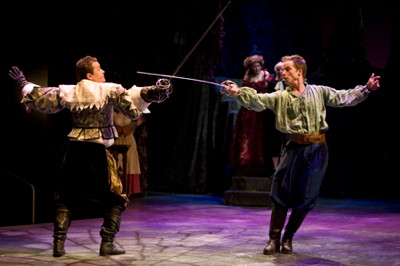 The Illusion
3352 E. Foothill Blvd.,
Pasadena, 626-356-3100
Performances:
Runs until Saturday, May 19, 2012
Performing in rep with Shakespeare's Antony and Cleopatra and Molière's The Bungler on the following dates:
Sunday, March 18, 2pm
Saturday, April 14, 8pm
Sunday, April 15, 2pm
Friday, April 20, 8pm
Friday, April 27, 8pm
Saturday, April 28, 8pm
Sunday, May 6, 2pm
Sunday, May 6, 7pm
Saturday, May 19, 2pm
Saturday, May 19, 8pm
Running time:
Approximately 2 hours and 20 minutes, including a 15 minute intermission.
TICKETS:
Single Tickets
$46.00 (Friday and Saturday evenings and Sunday matinees);
$42.00 (Wednesday, Thursday and Sunday evenings, Saturday matinees)
Group rates and special rates for school groups available.
Box Office:
Purchase tickets here or call (626) 356-3100  ext. 1