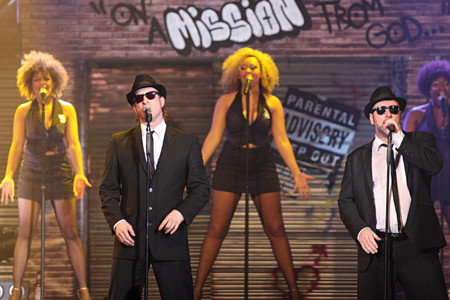 Dust off your pork pie hat and buff up those dancing shoes… Jake and Elwood are back!
"THE ALL-NEW ORIGINAL TRIBUTE TO THE BLUES BROTHERS™," featuring the entire original London cast, started touring the United States with its summer engagement at the famed Chicago Auditorium Theatre in July 2011.
London's acclaimed production makes its West Coast Premiere when the show concludes its coast-to-coast U.S. tour at the Irvine Barclay Theatre, playing from Wednesday, April 4 to Saturday, April 7, 2012.
Jake and Elwood Blues will once again be donning their iconic hats, sunglasses and suits to bring to life a host of the duo's most memorable hits, including "Shake A Tail Feather," "Think," "Respect," "Gimme Some Loving" and the toe-tapping classic "Everybody Needs Somebody To Love!"
This high octane entertainment, and fully-staged show, is directed by Brad Henshaw. Mr. Henshaw is an established name on the international music stage and also stars in the show as Jake. The hit West End show has been upgraded for Jake and Elwood's U.S. tour with additional songs, refreshed choreography and a new set.
The show is a two and a half hour journey through decades of Soul, Blues and R&B hits. Brad Henshaw plays "Jake," Daniel Flechter stars as "Elwood" and the duo is backed by one of Europe's finest six-piece bands, along with three soulful and sassy singers, Jocasta Almgill, Victoria Ekanoye and Victoria Goddard, aptly named "The Bluettes."
Following its modest premiere in a small seaside pub in Brighton in 1991, "The All-New Original Tribute to the Blues Brothers™" quickly became a runaway success. Theater producer David Pugh and film director David Leyland picked up the show, which opened in the West End just six months later. The run was extended from the original six to an unprecedented 46 weeks, playing to more than 150,000 people.
The memorable songs and characters live on in "The All-New Original Tribute to the Blues Brothers™" as "Jake and Elwood" continue to entertain audiences throughout the world.
The show has regularly toured mainland Europe including Ireland, Switzerland, and Great Britain, as well as playing four limited seasons in London. It has also toured to Japan, South Africa, New Zealand and Australia.  In Sydney, Russell Crowe appeared in the lead role of "Jake Blues."
Presented by Irvine Barclay Theatre, the musical revue is a joint production by Charles Aerts Theatre Productions and EJB Entertainment.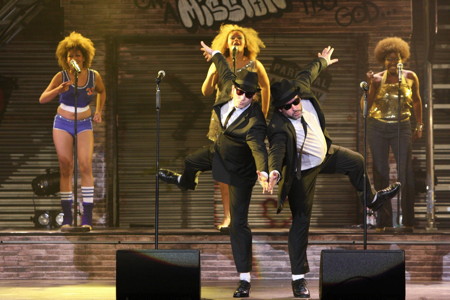 "THE ALL-NEW ORIGINAL TRIBUTE TO THE BLUES BROTHERS™"
Irvine Barclay Theatre
4242 Campus Drive,
Irvine, CA 92612
Dates:            April 4-7, 2012
Tickets:         Purchase online, via phone 949-854-4646 x1 or at the Box office
Prices:            $25-$45.00
            A very small number of Gold Seats are available at $100. Gold Seats include vip seating, admission to the private Gold Bar, and complimentary beverages.
*** The Blues Brothers trademark [for entertainment services] is owned by Daniel Aykroyd and Judith Belushi Pisano ***
About Charles Aerts Theatre Productions and EJB Entertainment:
EJB Entertainment and Charles Aerts Theatre are responsible for bringing the biggest international theatre successes to the Dutch and International stages. You can find more information about the current and upcoming productions on www.charlesaerts.com.
About the Barclay:
In its 22nd season, Irvine Barclay Theatre has created a distinguished record of excellence, having presented hundreds of international artists and attracting audiences from throughout Southern California. Its annual rosters of dance, theatre, music and spoken word events are unique in Orange County for their diversity and adventurousness.
This 756-seat concert and performing arts venue is highly regarded for its intimacy, superior acoustics, excellent sightlines, and first-rate production standards. The Barclay's mission also includes serving the needs of local arts groups, Orange County's major performing organizations, as well as UCI and other university programs. The theatre has become an important resource to dozens of community organizations and programs and has hosted as many as 215 public events in a single year. Nearly 2 million people have attended 3,600 events since the opening.