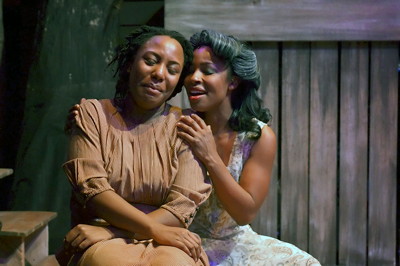 Gentle readers!
This week's theatre review for the LA Weekly is for the musical version of Alice Walker's sensational saga The Color Purple, now playing at Celebration Theatre in West Hollywood.
Click here and then scroll down a little bit to read my rave review.
~ OR ~
You can just read it here!!
Enjoy!
 The Color Purple
A dazzling and buoyant musical (on Broadway from 2005-08) based on author Alice Walker's Pulitzer-prize winning and sensational saga, this feminist tale charts an oppressed Southern black woman's struggle for empowerment during the 1930s. The whirlwind pace of the lengthy (2 hour 30 minute) show — book by Marsha Norman, songs by Brenda Russell, Allee Willis, and Stephen Bray — crams in a lot of story, although condensed at times.
Director Michael Matthews has assembled a gifted creative team and a blisteringly talented cast of 17, all with powerful voices and unlimited enthusiasm, elevating Janet Roston's superb choreography that is beautifully realized despite tight space constraints.
(Pictured left) Cesili Williams as central character Celie provides the raw heart of the show; it's gratifying to watch her eventually step into her power. Matthews capitalizes on the intimate space, creating elegant and fluid staging and encouraging his cast to shatter the fourth wall.
The upbeat, high-energy and unabashedly sexy show mostly keeps the mood light, glossing over the harrowing aspects of Walker's story to emphasize the sweeter emotional scenes and comedy, especially when employing a riotous and sassy 'Greek chorus' of gossipy church ladies as comic relief.
Hidden behind a wooden screen upstage are five musicians (including Music Director Gregory Nabours) playing their hearts out, belting out everything from honky tonk, jazz, blues and African rhythms, as well as backing tender duets featuring heavenly harmonies. Naila Aladin Sanders has created stunning period costumes.
 Do not miss this incredible show!
The Color Purple
7051-B Santa Monica Blvd.,
Los Angeles
323-957-1884
Thursdays-Saturdays, 8 p.m.;
Sundays, 3 p.m.
Continues through Saturday May 26, 2012
Tickets are $34.00
For tickets, please call (323) 957-1884 for details or visit their official site to purchase tickets online or to view a complete schedule.