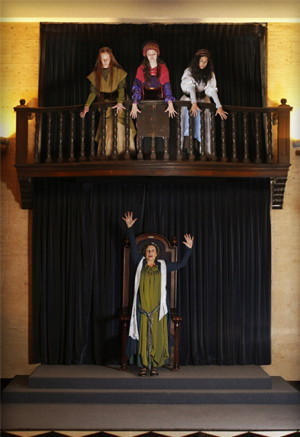 The Los Angeles-based nonprofit organization Overtone Industries presents the world premiere of its new opera The Woman in the Wall, with two weekends of performances, opening Friday, March 23, 2012 at the atmospheric Masonic Lodge in Culver City.
The Woman In The Wall is a new operatic work by composer O-Lan Jones and librettist Kathleen Cramer, conducted by David O. This production reunites the award-winning Overtone creative team of the critically acclaimed 2010 Songs & Dances of Imaginary Lands.
Inspired by the 14th Century tradition of The Anchoress, this new opera is a "mystery play" in the ancient tradition; it explores the openings and paths inside that are revealed when all doors are locked shut.
Over the course of seven days, which cover seventeen years, we follow The Anchoress, "Marianna" (Gretchen Johnson), as she becomes the inspirational advisor to everyone from the peasants to the king. As we follow her journey inward through her temptations, doubts, revelations, and fears, we see how she transforms the people's questions in relation to the Seven Virtues that light her way. The production features an orchestra of 10 instrumentalists, a cast of a dozen principal singers, and a 30-member chorus from the Angel City Chorale, led by Sue Fink.
Photo Credit: Emily Brooke Sandor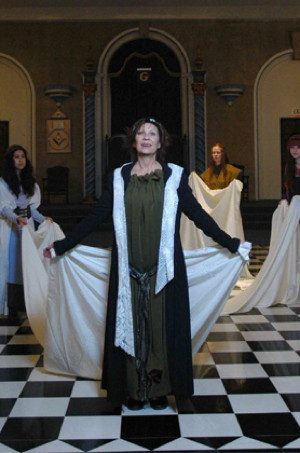 The Woman in the Wall
Presented by Overtone Industries
Masonic Lodge
9635 Venice Boulevard,
Culver City, CA 90232
Performances:
Mar. 23 – Mar. 31, 2012
Fridays & Saturdays at 8:00pm
Ticket prices:
$25 for Peasants (seating closest to the performers)
$40 for Royalty (seating in the middle of the performance space)
$50 for the Virtuous (reserved seating on an elevated platform)
Box Office:
Purchase tickets here or call (323) 655-2410