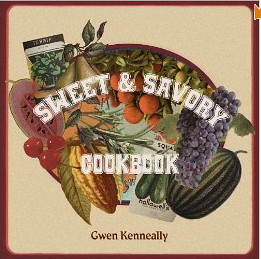 The newest release from savvy indie publishing house, Huqua Press, is a fabulous little cookbook by a seasoned (!) cook, Gwen Kenneally; the Sweet & Savory Cookbook.
An LA-based cook, caterer and food writer, Kenneally has been creating easy-to-follow and innovative recipes as well as writing a food column for the past decade or so. Trusting her instincts, Kenneally experimented and people raved, so she began to collect and develop her recipes used them professionally when catering in Los Angeles.  As a single mother, Kenneally found ways of adapting her recipes to permit busy families to eat fantastic food without spending all day slaving in the kitchen.  This rigorous testing approach led to a weekly cooking column.
Finally, she has released the Sweet & Savory Cookbook, a cookbook featuring her best and most popular handcrafted recipes of meals, treats and cocktails.  Some of these unfussy and refreshingly straightforward recipes include a little preamble, such as the simple combination of Watermelon and Mango with Limes and Mint (page 37), that she created when her daughter Emma was ill and Kenneally was striving to tempt her palate. Another great-sounding recipe is Roast Chicken with Pear (p. 38), that ingeniously stuffs an overripe pear inside a whole roasting chicken for a sweet and earthy result.
Kenneally's pretty cookbook is a tantalizing collection of sweet and savory recipes guaranteed to make your mouth water. The emphasis is on fresh and available produce. On weekends Kenneally peruses her local farmers' markets for the freshest produce and for inspiration to create her seasonal dishes.
Incredibly she combines strawberries and tomatoes with garlic and jalapeño – yes! – for a stunningly piquant salsa. Her Shrimp with Coconut (p. 15) features a clever and unusual ingredient that makes this recipe a smash hit with her clients. Read the cookbook to find out what it is.
Recipes with alluring titles, such as Roasted Salmon with Pomegranate and Avocado Salsa (p. 48) and Blood Orange Barbequed Chicken (p. 43), are practically begging me to test them out in my kitchen or backyard grill.
Her delectable-sounding Strawberry Margarita Pie (p. 73) was inspired by 'Cinco de Mayo' celebrations. Then there are the cocktails…  Pear and Rosemary Martini; The Lavender Martini; Ginger Infused Vodka and Lemongrass Green Tea – wow!
Interestingly, there are no photos in this cookbook. In fact, glossy photos of a professionally executed result can actually be a bit daunting. I think in this case the author made a wise choice focusing on the recipes rather than detailed illustrations of dishes or photos of prepared meals.
The Sweet & Savory Cookbook is artfully designed and whimsically illustrated by artist Alexandra Conn and features a foreword by Bruce Cohen (co-producer of the Oscar-winning movie, American Beauty).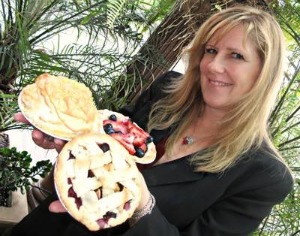 Gwen Kenneally's Sweet & Savory Cookbook
Published by Judith A. Proffer for Huqua Press.
Now available for purchase on Amazon.com, at Barnes and Noble and select bookshops and giftshops, including Love Champ Gallery, 12215 Ventura Blvd., Studio City CA 91604
Back to the Kitchen catering company:
Kenneally is the owner of Back to the Kitchen, a full service catering and party planning company that she founded in 2005. Since then, she has cooked for Bill and Hillary Clinton, among many other high-profile clients.
Back to the Kitchen is known for inventing unique menus designed especially by Kenneally for you and your guests. Many of her signature dishes were originally created to delight her loyal clients, but have gone on to become one of 'Gwen's Greatest Hits' – food that's requested over and over simply because it is so delicious.
She cooks with local, fresh, organic ingredients and is happy to design a menu around either conventional or Farmer's Market produce, Organic and Local foods.
Kenneally can handle directives such as Vegetarian, Vegan, Kosher-Style or Omnivore cuisine (anything that's tasty) — she has menus to accommodate a range of special requests, if necessary, on a single table.
Magpie Gourmet Mini Pies:
Co-founded by Gwen Kenneally and pie aficionado Judith A. Proffer, Magpie Gourmet Mini Pies are unique sweet and savory treats that have graced the tables of Hollywood premieres, private parties as well as political and charity events.
Magpie Gourmet Mini Pies are available exclusively by special order and also in limited quantities select Thursdays at:
Cafe Aldente
12215 Ventura Blvd.,
Studio City, California
(Call first to check availability – (818) 985-8055)
You can see also their weekly offerings on Facebook and on their official site.