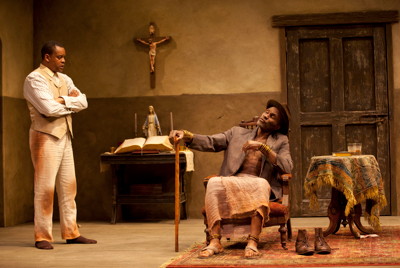 Enjoying its world premier is Danai Gurira's new play The Convert, commissioned by Center Theatre Group, and now running at the Kirk Douglas Theatre in Culver City through May 19, 2012.
The Convert is a strikingly unusual play in that the storyline traces the misadventures of a group of characters in colonial Rhodesia (now Zimbabwe), during the politically turbulent late 1800s.
The unusual factor is that all seven characters are black Southern Africans, ranging from educated, well-travelled and well-off missionaries to impoverished locals. Hence, we have what is, on the surface, a somewhat familiar 'missionary' saga. What sets Gurira's play apart from stories that have come before is that it is told through the eyes of the locals rather than those of the white missionaries, and this is a seldom-seen and sobering perspective.
Jekesai (Pascale Armand) is a young girl who escapes a forced arranged marriage (essentially being sold into slavery by her uncle) by becoming the newest convert of a well-meaning black Jesuit catechist Chilford, (LeRoy McClain). But when an anti-colonial uprising erupts, Jekesai is torn by her loyalties to her family and her culture and is forced to decide which side of the conflict she will choose.
Meahwhile, the catechist has his own personal issues concerning his curtailed hopes and dreams. Unfortunately, as a black man Chilford will never advance to the priesthood.
Gurira's lengthy (three-hour, two-intermission) play explores the cultural and religious turmoil caused by British colonization in the region, but suffers from a great deal of expository and explanatory dialogue.
Of note are the scenes between Jekesai (renamed Esther by her missionary protector Chilford) and an educated and well-dressed woman named Prudence (Zainab Jah) who discloses more similarities between her past and that of this runaway than we expected. Prudence's speeches about the societal limitations she faces as a brilliantly educated black woman are devastating to hear.
Well directed by Emily Mann, this world premiere production of The Convert is a co-production with the McCarter Theatre Center and the Goodman Theatre.
Photo credit: T. Charles Erickson.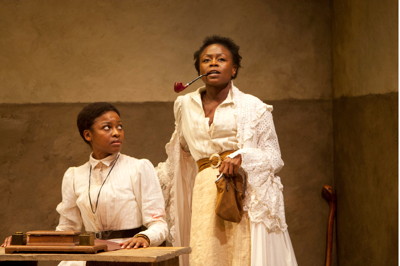 The Convert
Kirk Douglas Theatre
9820 Washington Blvd.,
Culver City CA
Performances:
Runs until May 19, 2012.
Tuesdays through Fridays, 8 p.m.
Saturdays, 2 and 8 p.m.
Sundays, 1 and 6:30 p.m.
Running time:
Approximately 3 hours, including two intermissions.
TICKETS:
$20—$45.00
Box Office:
Purchase tickets here or call (213) 628-2772