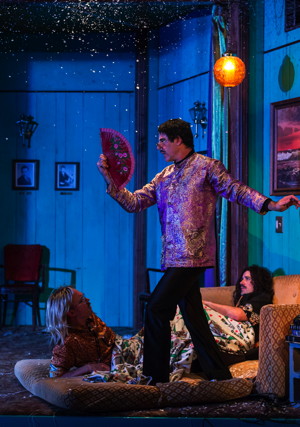 A creepy trio of lounge lizard magicians, sporting pedophile moustaches, cheesy outfits, hideous wigs and (in one case) false buck teeth, are the "protagonists" of a spoofy "play" called The Elephant Room, now playing at the Kirk Douglas Theater in Culver City. But it's not really a play at all. Instead it's an ill-focused, poorly developed and chaotic assemblage of mildly amusing nonsense featuring a handful of extraordinary magic tricks outweighed by far too many gags, pratfalls and lame conjuring stunts that fail to impress. Think Spinal Tap for magicians… Yes, it's clearly a send-up of the more tacky elements of the world of magic, but when you can actually SEE one of the magicians (Louie Magic) diving in and out of the voluminous pockets and secret compartments of his coat, that is what is known as prestidigitation FAIL.
Certain sequences in this mercifully brief (one hour and 15 minute) comedy magic show are so unfunny and unclever, they are downright awkward. A lot of the magic involved tricky props, such as a light bulb that glows but later appears to be filled with sand. Obviously some sleight-of-hand is involved here, but the best magic shows will feature breathtaking displays of amazing skills rather than just fun props such as silly string and balloon animals (yes, this show had that 5-year-old birthday party staple, balloon animals).
During a lengthy portion of the middle of the show the guys even started shilling their self-promotional tee shirts and related merchandise. Various physical gags were labored and drawn out. Jokes seemed deliberately lame. Audience interaction was painfully awkward. Backing music seemed intentionally cheesy. Despite a couple of moments, such as the magical appearance of a frying pan then used to cook an omelet miraculously, the entire show was disappointingly unfunny. The lack of plot or throughline saw the show devolve into a jumble of random magic bits as the guys seemed to go off into individual corners to pull every trick out of their respective limited repertoires.
The Elephant Room stars magician/performers Louie Magic, Daryl Hannah and Dennis Diamond and is directed by Paul Lazar.
Photos by Craig Schwartz.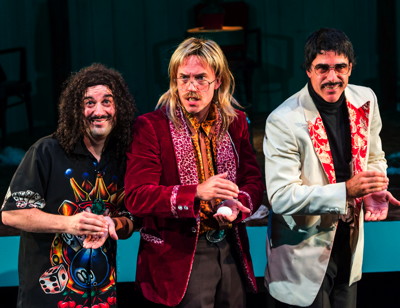 The Elephant Room
Center Theatre Group/Kirk Douglas Theatre
9820 Washington Blvd.,
Culver City CA
Performances:
Runs until September 16, 2012.
Tuesdays through Fridays, 8 p.m.
Saturdays, 2 and 8 p.m.
Sundays, 1 and 6:30 p.m.
Running time:
Approximately one hour and 15 minute, no intermission.
TICKETS:
$20—$50.00
Box Office:
Purchase tickets here or call (213) 628-2772