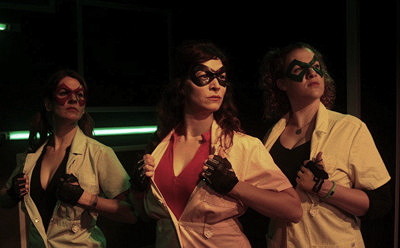 Greetings crimestoppers!
The LA Weekly has published my short article where I interview director Jaime Robledo and writer Adam Szymkowicz for their collaboration, the fun-filled action-comedy play Hearts Like Fists.
Click here to read it
~ OR ~
You can just read it here!!
Happy reading!
Hearts Like Fists Brings Comic Book-Style Crimefighting to the Stage
By Pauline Adamek.
With two well-reviewed shows running in LA at the same time, theater director and writer Jaime Robledo is at a career high. Hot off the success of Stoneface — the play about Buster Keaton that has been extended this month at Sacred Fools — Robledo is now tackling a different genre: comic book-style crime fiction.
A chop-socky cartoon on stage, Hearts Like Fists, written by Adam Szymkowicz, is an action-packed adventure romance set in the surreal world of female crime-fighting superheroes. Nurses by day, skilled warriors by night, a squad of ferocious and feisty femmes battles the dastardly and elusive Dr. X and his deadly war against romance.
No stranger to sensational premises, playwright Adam Szymkowicz has fashioned a cartoony story about a team of bad-ass female crime fighters on the trail of a killer. In Hearts Like Fists, tortured and lovelorn villain Dr X is sneaking into apartments late at night and injecting lovers with a deadly serum that stops their hearts.
A striking young woman named Lisa becomes the newest recruit to the Crimefighters, a team of tough women hell-bent on stopping evildoers. Meanwhile Peter, a heart doctor, is trying to create an artificial heart that can be mass-produced so that no one will be afraid to sleep with his or her lover again.
An engaging, one-act stage thriller, Hearts Like Fists delivers hot action, peril, comedy and high romance interspersed with nunchuck fights. Szymkowicz's plot has the feel of a graphic novel brought to life onstage. But his examination of heartbreak and romance adds depth to his cartoony story. Admits Szymkowicz, "I do like playing with genre. I have a cowboy comedy Hamlet play and a film noir/action movie play, a lesbian pirate play and a mob clown play."
Szymkowicz concocts his tales and lets the theater experts bring it to life. "Staging is not something I usually worry about as long as it's not impossible," he says. "I leave that to the director and Jaime did awesome work."
Robledo chimes in, explaining, "Well, it is satire. It is kind of just a metaphor for dealing with a broken heart, and all these characters are just driven one way or another by a broken heart and how they deal with it. Mainly these two characters [the doctor and the killer] deal with heartbreak in different ways. One goes into his work as trying to save lives and one goes into his work trying to end them."
He adds, "It's an incredibly technical show, and very specific because we're dealing with a lot of movement. There's a lot of fight choreography, so with every hit there is a sound associated with it and there are different sounds coming from different speakers. Plus there's music on top of that, as well as lighting and choreographed moves. The way Adam Szymkowicz has structured the play is that there are big, chunky scenes at the beginning of the show and then it becomes short and staccato at the end."
Hearts Like Fists plays select Thursdays, and Fridays, Saturdays, 8 p.m.; Sundays, 7 p.m. Through Sept. 1.
1517 N. Cahuenga Blvd., Hollywood.
(323) 856-8611.